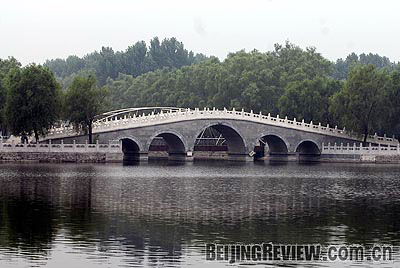 BRIDGE TO AFFLUENCE: The residents of Hancunhe Village are proud of their construction techniques. They modeled this bridge after a famous one in an ancient royal park
Li Kai, a farmer in his 70s, lives in Hancunhe Village in Fangshan District of Beijing suburbs. He takes charge of guarding his old house near the 330-square-meter villa he now lives in and receives 260 yuan ($37.90) a month for the job. The old house of Li now serves as a museum to mirror the village life 30 years ago. His wife receives the same amount for cleaning a 20-meter section of the street in front of their house. Besides the 280 yuan ($40.23) basic monthly pension that the Beijing Municipal Government gives Li and his wife, they also receive an additional living allowance of 210 yuan ($30.17) a month from Hancunhe Village. With all the money the old couple receive each month, they can easily afford their living expenses.
A CYCLING WE GO: The streets of Hancunhe Village are like those in cities
Today Hancunhe Village has an annual per-capita income of 18,000 yuan ($2,586.21). But 30 years ago, the residents lived a totally different life, said Zhang Yu, a guide at the Beijing Hancunhe Tourism Development Co. In 1978, when China launched its reform and opening-up policy, the village's per-capita annual income was only 50 yuan ($7.18). But the introduction of the reform and opening-up policy set Hancunhe on a path to becoming a wealthy, model suburban village.
Li Dejiang, a 70-year-old villager who has seen many changes take place there over the last 30 years, said the only source of income for the 700 villagers before 1978 was some 90 hectares of farmland. Even in years with good harvests, the yield per hectare was only 2,250 kg. An able-bodied laborer could earn only 400 yuan ($57.72) a year at most.
Dirt poor
The houses in the village were poorly built, because only a few residents could afford adequate building materials. Ninety-nine percent of the houses were built with adobe, while only a few were constructed with stone blocks. Some houses were built at the base of slopes so that during the rainy season, it was difficult for villagers to walk to their houses, which were surrounded by puddles. About 10 percent of the houses could not keep out rain and wind.