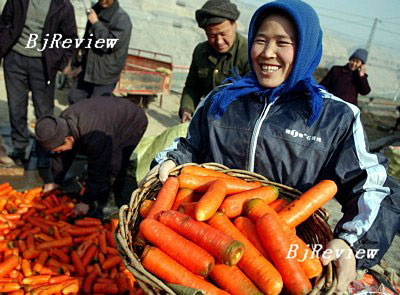 A GOOD HARVEST: In Lanzhou, capital of Gansu Province, agricultural associations' and agencies' technological support to farmers has become a new way for them to increase income
In the remote village of north China's Shanxi Province, life is getting easier. "The dirt roads of our village have been covered with cement, so we don't need to worry about dirtying our shoes and trousers on rainy days," said Kang Yunxi.
But a cleaner pair of shoes is a minor improvement compared to other things that are taking place.
Tuition fees for primary and junior middle school students have been exempted; villagers aged above 60 can now receive an allowance every month; and every house is equipped with cable television.
A new countryside is gradually being revealed, thanks to relevant government policies.
This March marks one year since the Central Government proposed to develop a new countryside, and farmers are benefiting.
The No. 1 Document this year gives top priority to construction of a new countryside again, and developing modern agriculture is the focus.
A good start
In 2006 when construction of a new countryside was commenced, both the absolute increase and growth margin of farmers' incomes ranked among the highest in recent years, said Chen Xiwen, Director of the Rural Work Office of the Central Government, at a press conference held by the Information Office of the State Council on January 30.
According to Chen, in 2006, the Chinese Government abolished agriculture taxes all over the country, reducing the burden of farmers by 120 billion yuan. At the same time, the government also granted financial support, inputting 19.09 billion yuan and 8.74 billion yuan in rural education and sanitation improvement, respectively.
In 2006, among both central budget investment and treasury bond investment, 53 billion yuan went to agriculture and rural construction.
Total grain output surpassed 490 billion kg in 2006, and farmers' average income arrived at 3,587 yuan, 332 yuan higher than that in 2005, with the growth rate hitting 7.4 percent allowing for price hikes.
In 2006, great progress was achieved in infrastructure construction and various social undertakings in rural areas. New types of cooperative medicare have been introduced to 40 percent of counties and districts nationwide with input of 4.73 billion yuan from the central budget, 8 times the figure in the previous year. In terms of compulsory education in rural areas, tuition and miscellaneous fees of primary and junior middle school students in the western region are exempted and accommodation allowance is granted to students from poor families, benefiting 48 million primary and junior middle school students in the region.
Difficulties emerge
In 2006, Ye Jingzhong, a professor at the College of Humanities and Development of China Agricultural University, spent eight months visiting most rural villages in Jiangsu, Hunan, Hebei and Gansu provinces and completed a report entitled "Research on Construction of a New Countryside With the Perspective of Farmers."