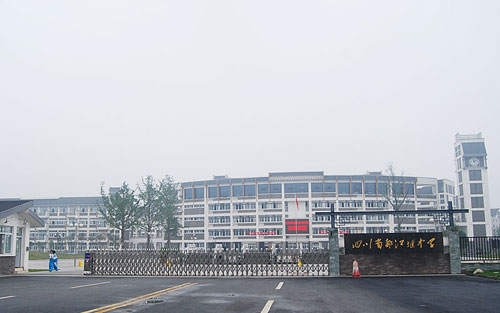 The new site of Dujiangyan Middle School (CHEN RAN)
Every day after class, Lu Xin, 19, plays table tennis with his classmates at Dujiangyan Middle School in Sichuan Province. Currently, he is preparing for the national college entrance examinations, which will be held in early June.
"I found myself more mature after the quake," Lu told Beijing Review. "I'm not among the top students, but I'll try my best to go to a university. Electrical engineering will be my major, so that I can contribute to my hometown's infrastructure construction in the future."
Quality first
Established in 1928, Dujiangyan Middle School is the only provincial-level key middle school in Dujiangyan City and the first permanent school to reopen since the 8.0-magnitude quake last May.
According to school headmaster Feng Kai, the original site, the only Confucian temple built in southwest China around 900 A.D., was damaged by the quake. Consequently, some 1,100 students in Senior 3 who were preparing for the national college entrance examinations were relocated to a nearby vocational school; more than 500 students in Senior 2 continued their studies at other schools on a temporary basis; approximately 100 students attended classes in a shelter tent at the original site; and another 1,600 students were temporarily out of school. Worse still, the main building of the new school under construction at the time, which was nearly finished and had been built with earthquake-resistant materials, partly cracked, as the straight distance from the site to the epicenter was only 20 km.
"It seemed impossible to have the school restored and reinforced within months and for classes to resume on September 1, the first day of the new semester," Feng recalled.
Fortunately, the school's new site was among Dujiangyan's first batch of restoration projects in late May, thanks to the school-first restoration policy the provincial government introduced after the quake. In mid June, the school received a 20-million-yuan ($2.86 million) restoration loan and a 10-million-yuan ($1.43 million) donation from the China Development Bank Sichuan branch, on the basis of a previous 30-million-yuan construction loan.
Shanghai, one of Dujiangyan's partnership assistance cities, also sent a working group to the school to take charge of installing education equipment, including fireproof, adjustable-height desks and chairs, 900 sets of energy-saving lights, an internal telecommunications network and barrier-free facilities for disabled students.
"The new school could not have been restored so soon without support from all corners of the country," Feng said. "We are blessed to have a brand-new life in a modern school like this."
Besides Dujiangyan Middle School, Shanghai will help build a batch of primary and middle school buildings for Dujiangyan City, which are scheduled for completion before September 1 this year. All buildings will strictly follow unified construction standards focusing on their stability and functions.