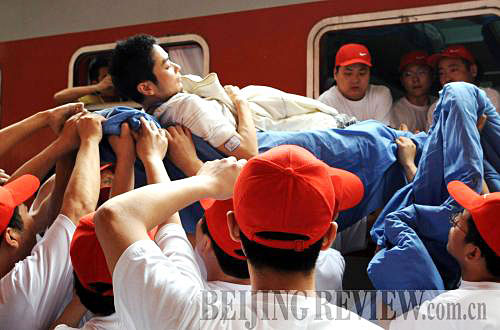 Volunteers assist a seriously-injured quake survivor from Sichuan Province get off a special charter train at Shijiazhuang Railway Station, Hebei Province, on May 27, 2008 (XINHUA) 
May 19 is a special date for Zheng Zhongwei, director of the Institute of Blood Transfusion with Peking Union Medical College and the Chinese Academy of Medical Sciences based in Chengdu, capital of Sichuan Province. On that date one year ago, he was appointed head of the team transporting people injured in the May 12 Wenchuan earthquake. Over the next 13 days, he and his 28 team members managed to complete China's largest peacetime transfer of injured people. A total of 99 special charter flights, 21 special charter trains, more than 20,000 ambulances and 10,000 medical staff transferred 10,015 injured survivors in Sichuan alone to more than 380 top hospitals in 20 provinces and municipalities across the country.
Born in 1967 in Liangshan Yi Autonomous Prefecture, a remote mountain area in Sichuan Province, Zheng started primary school at age 5, entered middle school at age 10, and began working at a hospital in his hometown at age 20 after finishing medical school. In 1998, he became the youngest hospital president at the county level in Sichuan. In 2000, he was recruited as president of the Chengdu Women's and Children's Health Care Hospital, the first top-level hospital for women's and children's health care in Sichuan. He has served in his current position since 2006.
"Client first," a management theory he learned from his PhD course at Southwest Jiaotong University, has had a far-reaching influence on his work, especially in transferring injured people.
"The injured survivors wanted to go to the best hospitals, get the best medical treatment, free of charge, and go to the best rehabilitation centers if they were permanently disabled. During the transfer operation, we treated them as our 'clients' and tried our best to meet their requirements. We did just as the old Chinese saying instructs, 'Honor the aged of other families as we honor our own; and care for the children of other families as we care for our own,'" Zheng told Beijing Review.
"In addition, we set up a detailed database so that we could easily follow up on each patient's records and situation," he said.
However, Zheng was reluctant to talk more about his own work on the transfer team, and attributed its unprecedented success to close coordination and cooperation among related departments.
"Patients were transferred based on the extent of their injuries, rather than their social status or background. For example, over 95 percent of the 10,015 transferred patients had never been aboard a flight, let alone flights to big cities like Beijing and Shanghai. I think the mission is an apt example of the 'people-centered' governance concept," he said.
Zheng said the transfer work gave him a sense of accomplishment and worth, although it was by no means an easy task. "When I look back on those days, I feel that Chinese people needed an optimistic mind," he said. "Our souls became purer after being washed by the quake. We showed the spirit of cooperation and selfless sacrifice during the disaster relief work, which ought to become the starting point for a new and positive education."