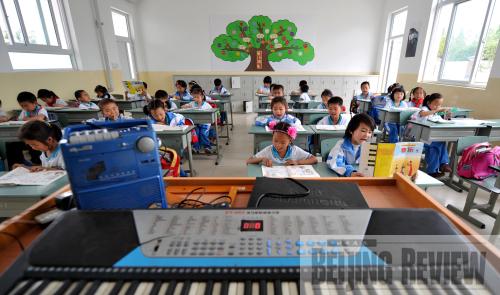 DO RE MI: Students have a music class at Tuqiao Primary School on May 9, 2009 (YANG LEI)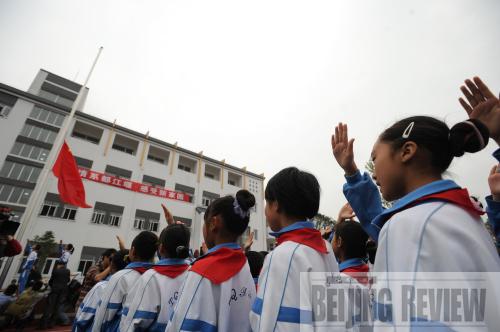 NEW START: Students salute the national flag at Tuqiao Primary School in Dujiangyan, Sichuan Province, on May 9, 2009, at a ceremony marking the inauguration of the new campus (JIANG HONGJING)
Principal Li Bangjian has every reason to take pride in the well-equipped new campus of Tuqiao Primary School in Dujiangyan City, Sichuan Province.
"My school is now the best and the most strongly built school in the Tuqiao area," said Li. Covering an area of 1.6 hectares, the school consists of seven earthquake-proof buildings including a classroom building, a library and a cafeteria as well as a modern playground with two badminton courts, a basketball court and a soccer field. The school has 38 teachers, three administrative staffers and more than 550 students.
Tuqiao Primary School is the first permanent school that has been completed and put into use in Dujiangyan since post-quake reconstruction began. Students were overjoyed when they moved from temporary plank classrooms to the new campus in early May.
Dujiangyan, some 50 km northwest of the provincial capital Chengdu, is a renowned tourist city famous for the world cultural heritage site "Mount Qingcheng and the Dujiangyan Irrigation System." Although it did not suffer as severe casualties as Wenchuan and Beichuan in the earthquake last year, nearly 90 percent of buildings across the city were damaged.
Li recalled that he was walking out of the classroom building when the earthquake occurred. He heard a loud noise before the building started to shake violently. Some old buildings and the walls of the school tumbled to the ground, while the classrooms became too dangerous to use, he said. The students and teachers were all able to evacuate in time and nobody was hurt, he added.
The Shanghai Charity Foundation and the Shanghai-based real estate developer Greenland Group undertook to rebuild the school in August last year as part of the municipality's assistance program for Dujiangyan. They completed the project in less than five months, with a total investment of more than 10 million yuan ($1.4 million), Li said.
Shanghai is assisting with Dujiangyan's reconstruction efforts under a mandate from the Central Government. Li told Beijing Review that five teachers at Tuqiao Primary School have received training in Shanghai since September last year. The school is planning to send all its core teachers to attend training programs in Shanghai in the next three years, he said.
Li, who has been teaching for 23 years, said he is confident about his school's future. "The most pressing task for us is to provide a good education for our students and imbue them with a sense of social responsibility," he said.
Li noted that the teachers at Tuqiao Primary School see to it that the students develop an "attitude of gratitude" from childhood. For example, they organized discussions about the new school during which students spoke one after another to express their gratitude to donors and builders from Shanghai on May 12, the anniversary of the Wenchuan earthquake.
(Reporting from Dujiangyan)