Almost nine months after the devastating May 12 earthquake in Sichuan Province, the flattened tourist hub Dujiangyan basked in the joy of the Spring Festival. Having gone through a torturous year, the hard-hit city had a rare chance to breathe more easily.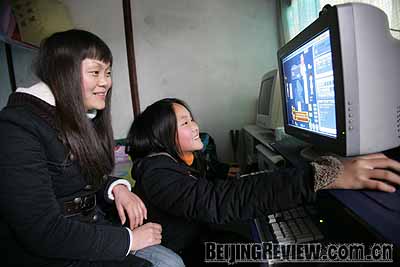 MOVING ON: Zhang Sufang and her daughter at the Happy Home Community, one of the first temporary housing camps in Dujiangyan that gave shelter to thousands of homeless people (WANG XIANG) 

During the day, people set off firecrackers to scare off evil spirits and attract the god of wealth to their doorsteps. At night fireworks exploded over the city and fire lanterns flew into the dark sky as victims bid farewell to the disaster and let go of the pain deep in their hearts. In a variety of ways, they expressed hope that the Year of the Ox will be happier than 2008.

Among them was Zhang Sufang, 28, who lives in the Happy Home Community, one of the first temporary housing camps in the city that gave shelter to thousands of homeless people.

Zhang's room was small but cozy, and overflowed with festive liveliness. A few New Year paintings added color to the white walls and a space heater kept the home warm and airy. Zhang, her 30-year-old husband Zheng Gen, and their only daughter were enjoying a lavish lunch, including spiced fish stew and beef in chili sauce, both Sichuan specialties.

"Compared with in the past, this year's festival is a really hard one to go through since the disaster has taken such a toll on us," Zhang told Beijing Review. "But we still had some basic celebrations because it's the most significant occasion for us Chinese.

"We have to be strong and move on with new life so that the dead can find peace in heaven," she added.

"Of course, it still hurts to recall the picture of our large family getting together and having fun," Zhang sighed as she watched the little girl playing her favorite online games. "How wonderful it would be if her grandma could be with us to greet the New Year."

When the first tremor rattled cups and plates in her kitchen, Zhang's 60-year-old mother Liu Shuqing immediately rushed downstairs to save her granddaughter. She threw herself over the little girl, shielding the 10-year-old from the collapsing building with her last embrace.

Fortunately the couple survived uninjured, but their grocery store downtown, the family's only source of income, was reduced to rubble.

"We lost everything in the earthquake except our lives," Zhang said with tears in her eyes. "The daunting nightmare still seems like yesterday."

"We escaped with nothing in our hands and so we thought about the future with growing anxiety," her husband said. "It seemed as if we would never be back to normal life again."

For two months after the quake, the family was crammed into a small, thin tent along a broken street. The couple scratched out a living doing part-time cleaning jobs for the remaining restaurants.

Things took a turn for the better in late July when the family moved into the temporary housing community, where basic necessities and mental care were offered. In a neighborhood full of friendliness and encouragement, Zhang gradually cleared the darkness in her heart and integrated into community life. She now works as a clerk for the community management committee.

"Everyone living here was so optimistic about the future and trying hard to make a better life, I couldn't be left behind," she said. "Serving other victims made my life more meaningful."

With the help of the community job center, Zhang's husband landed a decent job as an agent with an insurance company in Chengdu, the province's capital city which is 50 km from Dujiangyan.

"I got no bonus this year for the Spring Festival since the company has been affected by the economic slowdown," he said, "but the company has pledged no layoffs. That's already a big comfort to us quake victims."

"We know that our lives will not be as easy as we expected," said Zhang, "but from this disastrous experience, we have learned how to forget our past suffering and cherish what we have today."

Zhang said if they didn't leave the misery behind them, they would not be able to get through the hard days. "All I want now is a normal life for my daughter, so she can go to school and grow up without worries."

The couple said their biggest wish for the New Year was to move into a permanent floor house as early as possible. "When the spring comes, the city and our life here will pick up more steam," said Zhang.