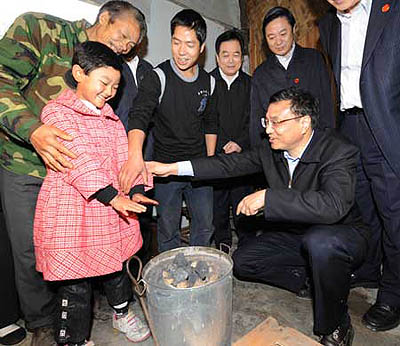 Chinese Vice Premier Li Keqiang urged authorities of southwestern Sichuan Province to ensure the May 12 quake affected residents live through the coming winter safely and speed up reconstruction work.
Li visited farmers' houses, temporary hospitals, enterprises and construction sites in the province from Saturday to Monday.
The construction of permanent houses meeting quality and quake-resistant standards should be accelerated to make more residents live in new homes as early as possible, said the vice premier when visiting a farmer's newly completed house in Wenchuan, the epicenter of the 8.0 magnitude quake which left more than 80,000 people dead or missing.
Li also urged local governments to do earnest work to ensure affected residents had enough food and clothing for winter.
In addition to residential housing, the restoration and building of schools and hospitals should also be a priority as should their construction as the safest places, Li added.
(Xinhua News Agency October 28, 2008)