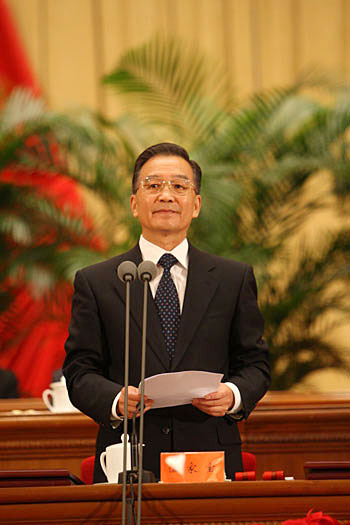 Chinese Premier Wen Jiabao presides over the ceremony honoring organizations and individuals for their contributions to relief work after the May 12 earthquake at the Great Hall of the People in Beijing, October 8, 2008 (Xinhua)
A ceremony was held on Wednesday to honor organizations and individuals who made major contributions to the relief work after the May 12 earthquake struck southwest China.
Chinese Party and state leaders including Hu Jintao, Wu Bangguo,Wen Jiabao, Jia Qinglin, Li Changchun, Xi Jinping, Li Keqiang, He Guoqiang and Zhou Yongkang attended the ceremony, which kicked off at 10 a.m..
President Hu, also general secretary of the Communist Party of China (CPC) Central Committee and chairman of the CPC Central Military Commission, presented awards to the honored and addressed the event.
Representatives of the organizations and individuals also spoke at the ceremony.
The quake, measuring 8.0 on the Richter Scale, jolted southwestern Sichuan and neighboring provinces and has left more than 80,000 dead or missing. It was the deadliest and strongest tremor hitting China in over three decades.
(Xinhua News Agency October 8, 2008)