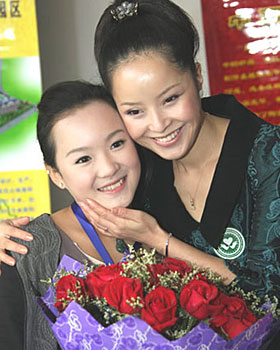 The lead actress Liu Mengjiao takes photos with actors during the premiere of the film Mom, Don't Cry in Beijing on October 5, 2008 (Photo: Xinhuanet)
Mom, Don't Cry, the first Chinese film set against the backdrop of the Sichuan earthquake, premiered in Beijing on Sunday.
Over 300 people, including the cast members, quake survivors and film specialists, were in attendance.
The story tells how a young girl trapped in the rubble fought against fate to survive the disaster in Beichuan, one of the worst-hit places in the deadly May 12 earthquake.
When rescue work was suspended due to aftershocks, the protagonist, Liu Linlin though trapped in the dark with heavy injuries, tried her best to comfort her desperate mother outside. Audience could barely hold back their tears as they watched the touching scene.
Director Cao Guiqian led her cast to quake-hit Mianyang as soon as she could in order to shoot the film in a timely and authentic manner. Many of the scenes were shot against actual aftershocks.
The film highlighting the strong and lofty spirits of the younger Chinese generation is believed to have the potential to boost national morale after the quake.
(CRIENGLISH.com October 6, 2008)