Two hours after the earthquake, two helicopters from Chengdu Military Area Command took off amid heavy rain on a mission to appraise the seriousness of the quake. Five and a half hours after the earthquake, a relief team, consisting of 227 military engineers and engineering soldiers from Beijing Military Area Command, boarded an airplane for the quake zone.
Military forces stationed in the earthquake zone sent their first batch of 9,100 people to participate in the rescue work immediately after the earthquake. The air force, military and military cargo aircraft were ordered to prepare themselves for flights at any time throughout the night.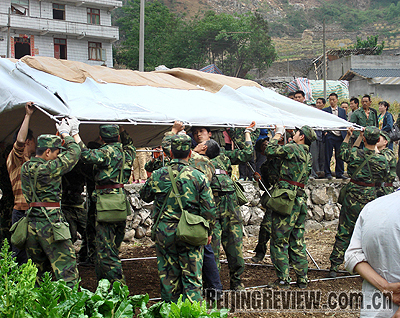 GIVE ME SHELTER: Soldiers help to erect tents as temporary homes for evacuated earthquake victims
Within 10 hours of the earthquake, over 12,000 members of the armed forces and armed police forces had entered the earthquake zone.
In the early morning of May 13, some 23 military cargo aircraft and 12 civil airliners embarked on 78 flights to transport rescue equipment and 10,891 military personnel from the three cities of Luoyang, Wuhan and Kaifeng to the four airports around Chengdu, capital city of Sichuan Province.
The scale of this operation was unprecedented in Chinese military history.
On May 15, the Central Military Commission allocated another 61 military helicopters for earthquake relief missions, which arrived in the earthquake zone from all directions of the country within 16 hours. This operation in Sichuan's northwest had become the largest of its kind in the history of Chinese military.
Over 130,000 members of the military were working for the relief effort within days of the earthquake, including more than 20 types of professional force, with specialties such as scouting, communications, engineering, surveying and mapping, meteorology, healthcare and repair work. Their diversity and speed were admired throughout China and applauded around the world.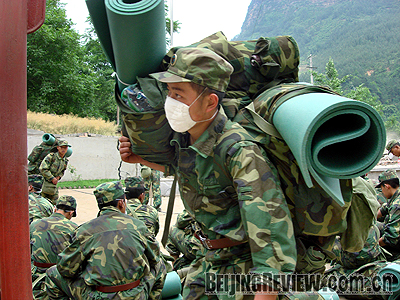 LONG MARCH: Earthquake relief soldiers embark on a walk through the mountains to save people in remote villages
The earthquake and the ensuing landslides cut off road traffic to Wenchuan, the county at the epicenter of the quake. Around 34 hours after the earthquake, a team of 200 soldiers entered the main urban center of Wenchuan after walking 90 km through the mountains in 21