Chengdu is a city that has flourished in popularity. It was awarded the title of Best Tourist City of China by the UN World Tourism Organization in 2007.
It's a city and surrounding area that is rich in sightseeing and cultural features, with highlights including the Chengdu Research Base of Giant Panda Breeding based 10 km from Chengdu proper, the home and gardens of the poet Du Fu (712-770), and traditional styled lanes (formerly a soldiers' garrison) representing aspects of the city's 3,000-year history. The city is also on the fringe of mountains of outstanding natural beauty and is a gateway for visitors to Tibet. It has succeeded in modern times with the traffic of life paying witness to its uniqueness.
Three of Chengdu's six administered county-level cities—Pengzhou, Chongzhou and Dujiangyan—were hit hardest by the earthquake, but are by no means off limits to travelers at the present time, as nearly all of the close lying scenic spots were undamaged. Indeed, Dujiangyan City has adopted free ticket policies to try to attract more people back to the area. Although some tourists are returning to the city, most are local people. A national advertising campaign is planned, aiming to lure more Chinese visitors.
Yu Yong, Director of the Chengdu Culture and Tourism Development Group, describes how life is going on and endeavors are being made to repair the city's damaged reputation. A recent Panda Festival in Hong Kong has helped to spread the word that the city is safe, a shopping festival is ongoing and the Snow Mountain Festival is still planned for the winter. Meanwhile, commercially 18 enterprises from around the country have pledged to hold major meetings in Chengdu in the course of the year and the Western Exhibition Festival, postponed until October, will also help to attract visitors and potential investment. Furthermore, the tourism bureau of the city has invited 200 heroes from rescue teams to return to Chengdu to receive the famous Sichuan hospitality.
Guan reports that since the earthquake several Taiwanese groups have visited the city. His organization targets tourists from Japan, Europe, and America, but recovery is still slow, despite the fact that the city has experienced virtually nothing in the way of aftershocks. It seems that the impact on the city is not so much one of physical ruin, but in the confidence of its potential visitors.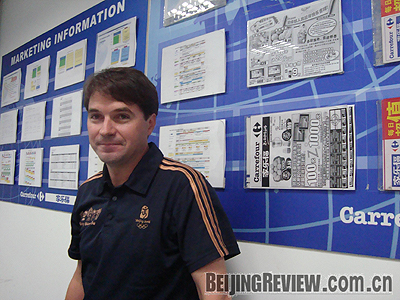 (3) CORPORATE CITIZENSHIP: Arnaud Dupont of Carrefour describes the corporate responsibility of companies during emergencies (YUAN YUAN)
For the people of Sichuan, there is no choice but to go on. Arnaud