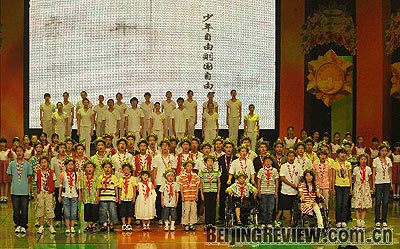 ROLE MODELS: Young heroes win titles for their bravery during the May 12 earthquake at a gala awards ceremony on June 27
Following a week of online voting for the bravest youngsters during the earthquake in Sichuan, a gala award ceremony was held in Beijing on the evening of June 27, where 20 primary and secondary school students were named "young earthquake heroes."
They were the winners among 50 candidates whose stories were widely reported on TV and in newspapers in the wake of the earthquake. Their altruism has brought millions of people to tears across the country.
It was announced that four of the 50 candidates, 17-year-old Shen Long, 18-year-old Wang Jiaming, 17-year-old Ouyang Yuhang and 18-year-old Zhang Bo, will be admitted into Peking University, Tsinghua University, National University of Defense Technology and Academy of Armored Force Engineering, respectively, without taking the national college entrance exam.
The votes, collected online, through short-text messages, telephone calls, faxes and emails since a selection campaign was launched on June 16, reached over 50 million. About 100,000 related articles and postings were reportedly put up on the Internet by people of all ages, hailing the youths as national heroes.
Most of students risked their lives to save their peers and teachers immediately after the earthquake.
On the online forum of the website of China Central Television, thousands of people left words of encouragement and admiration on a web page dedicated to one of the 50 candidates.
Bravery
On the list of "young earthquake heroes" were two 12-year-old girls-Song Xue and Zou Wenying-both fifth-grade primary school students who were killed by collapsing buildings as they helped classmates to escape.
The youngest "young earthquake hero" was nine-year-old second-grade student Lin Hao. The earthquake disrupted the mathematics lesson of Lin and his 31 classmates. He was buried in rubble as he tried to run out of the teaching building, but managed to climb out of the ruins.