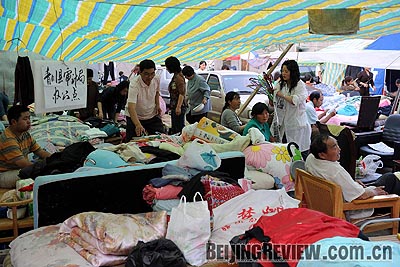 "Management and use of quake relief funds and goods is the top priority of auditing work," said Liu Jiayi, Auditor General of National Audit Office, at a press conference held in late June. Liu expressed that the purpose of auditing is to ensure accountability and transparency in the use of relief funds and goods.
As of June 23, China had allocated 54.3 billion yuan ($7.87 billion) toward quake relief. According to Liao Xiaojun, Vice Minister of the Ministry of Finance, the Central Government has allocated 25 billion yuan ($3.62 billion) for quake relief and preliminary post-quake construction, and will allocate an additional 70 billion yuan ($10.14 billion) to set up a reconstruction fund at the request of the State Council.
To strengthen the management of disaster relief funds and goods, the government has established a leading group to inspect their use, and coordinated strict supervision of relief supplies.
Shortly after the earthquake, the State Council released a Notice on Strengthening the Supervision and Management of Quake Rescue and Relief Funds and Goods. Relevant government departments have formulated more than 10 rules and regulations on the acceptance, management and use of quake relief funds and goods.
"We will strengthen supervision on the use of disaster relief funds, especially on the use of reconstruction funds. We will track and audit every process, and publish the audit results," said Liu.
So far, auditing agencies across the nation have sent more than 10,000 auditors to track the process of funds collection, management, allocation and use.
As of June 23, the auditing agencies had inspected more than 19,800 organizations and conducted extensive auditing on the 1,000 plus townships, 2,400 villages and 14,500 plus households in quake-stricken Sichuan, Gansu and Shaanxi provinces.
Liu said, "The audits show that disaster relief goods and funds are well managed and allocated fairly. No serious violation of relevant rules and regulations has been found."
To strengthen the audit and supervision of relief funds and goods, on May 27, the National Audit Office published a phone number and website address where members of the public can report malpractice.
Because of the huge amount of earthquake donations received, the Red Cross Society of China invited the auditing office to participate in fund management from the beginning. Wang Haijing, secretary general of the society, said that all their projects are audited by the government or independent auditors upon completion and the Red Cross Society also conducts random checks on the distribution of disaster relief supplies before or after the completion of a relief project each year.
Early on, the Chinese Government required all agencies receiving donations to disclose information, and publish their revenue and expenditure. The Ministry of Civil Affairs, the Red Cross Society of China and the China Charity Federation have set up strict effective internal control systems and procedures for funds collection and allocation.