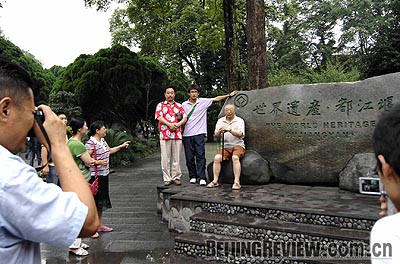 BOUNCING BACK: Tourists take photos in the scenic park of Dujiangyan irrigation system, which launched a three-month admission free promotion on June 14 to draw tourists back after the earthquake
Situated in the depths of the mountains in China's southwestern Sichuan, Jiuzhaigou, or Nine-Village Valley, is home to nine Tibetan villages.
Stretched over 50 km, the valley is dotted with crystal clear lakes, tumbling waterfalls and thick forests, scenery that has earned it the nickname "fairyland," and in 1992 saw the UN Educational, Scientific and Cultural Organization (UNESCO) enter it onto the world natural heritage list.
This dreamland of natural beauty, which was once a popular tourist destination, is now quiet and almost empty since the earthquake that struck Sichuan on May 12. Wenchuan County, at the epicenter of the quake, is in the same prefecture as Jiuzhaigou.
On the day of the earthquake, the National Tourism Administration issued a circular to tour agencies around the country to cancel all planned trips to earthquake zones in Sichuan.
On June 13, Sichuan Provincial Government held a press conference to announce the decision to fully open tourism destinations in 13 cities and prefectures in Sichuan and on June 15 some tourism destinations in Chengdu, capital city of Sichuan, Bazhong and Ya'an, were also reopened.
Although Jiuzhaigou was not among the first batch of tourism attractions reopened in Sichuan, this was not out of any safety concerns. In an interview with Xinhua News Agency on June 30, Fan Jingju, an official with the Jiuzhaigou Scenic Area Administration, said the earthquake did almost no damage to the scenic area itself and roads from major cities to Jiuzhaigou will soon be fully repaired. Fan said the best season of the