A primary estimation said more than 14 percent of the province's farmland, or 670,000 hectares, has been decimated in the earthquake, which has severely hampered grain production there-Sichuan contributed 6 percent of China's grain output last year.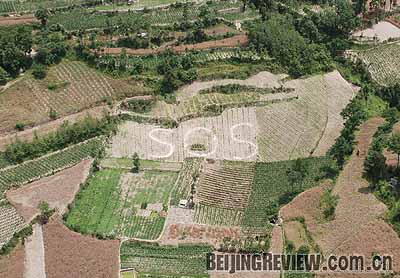 AGRICULTURAL WOES: Grain production in Sichuan will shrink as more than 14 percent of farmland was destroyed in the earthquake
Rice production will be hardest hit, said Xie Gang, a researcher with Sinolink Securities Co. Ltd., because water conservation facilities were damaged. Sichuan ranks fifth in terms of rice production in China, and it was estimated about 100,000 hectares of paddy fields have to be changed to dryland farming because of inadequate irrigation capabilities.
"If grain production shrinks in Sichuan this year, it will affect the supply within the province and even nationwide," said Xie. "We predict that the rice price will increase within the province, and therefore it is very likely that rice prices will go up in the domestic market as a whole. "
As the severely hit areas also supply vegetables to Chengdu and adjacent provinces, Xie predicted Sichuan would suffer a shortage of vegetable supplies, particularly in winter.
Industrial losses
Dongfang Electric Corp., a major manufacturer of power generation equipment in China, suffered a loss of 7 billion yuan ($1billion) when its turbine rotor factory in Mianzhu was completely ruined by the earthquake. The turbine rotor business contributed 20 percent of the corporation's revenue last year.