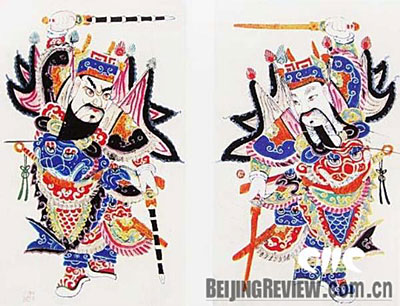 The Mianzhu New Year Painting
Situated in the northwest Sichuan Basin, Mianzhu is a county-level city in Deyang City, 83 km away from Chengdu. It covers an area of 1,245 square kilometers, and has a population of 510,000 (as of 2004). It is divided into 19 towns and 2 townships.
Geology and Climate
It features a low altitude (mainly plains) in the southeastern part and high altitude in the northwest (mainly mountainous areas). It sits in a subtropical humid climate zone and has a continental monsoon climate, which means no extreme temperatures in summer and winter. The annual temperature is 15.7 degrees Celsius; annual rainfall hits 1,053 mm.
Economy
Regarded as the shining pearl of western Sichuan, it has witnessed rapid economic development in recent decades, and has been one of the top 10 industrial counties in Sichuan for 13 consecutive years. Food processing, machinery, chemicals and building materials are the pillars of Mianzhu's economy. It is also the home to Jiannanchun, one of the country's top 10 liquor brands. In June 2008, the traditional winemaking technique of Jiannanchun, which is said to have over 3,000 years of history, entered the national intangible cultural heritage list.
Natural Resources
The county is home to more than 40 mineral resources, including limestone, natural gas, coal, and phosphate. It is one of the four major phosphate bases nationwide. More than 150 species of rare plants and animals can be found here. Forest coverage reaches 49.8 percent.
Folklore
Mianzhu New Year Painting:
Mianzhu is renowned for its woodblock New Year paintings. Originating in the Ming Dynasty (1368-1644), the art reached its peak during the Qing Dynasty (1644-1911). The process features ink line printing on woodblock in various colors. The theme of paintings ranges from historic stories, fairy tales to opera and dramas. Currently, there are more than 300 painting factories, big and small, across the city; annual production hits 12 million copies, which are exported to domestic and overseas markets, including India, Japan and Vietnam.