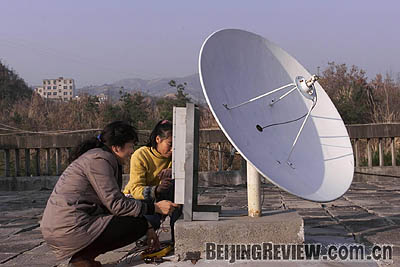 DIFFICULT FORECAST: Seismologists install a telemetry system in Yichang, Hubei Province, to monitor and detect possible earthquakes in the Three Gorges region
The May 12 earthquake in Wenchuan County took less than two minutes to kill some 70,000 people and injure several times that number, mostly in Sichuan Province. With that in mind, some have begun to question the work of earthquake experts and the purpose of earthquake predictions.
Short-term quake forecasts-meaning days or hours, with an accurate description of area and magnitude-are almost impossible with current technology, according to experts at the China Earthquake Administration (CEA).
"We are unable to penetrate deep under the earth, the conception of an earthquake is very complicated, and the recurrence of big earthquakes in a given region takes a long time," said Zhang Xiaodong, Deputy Director of the China Earthquake Networks Center (CENC) under CEA.
In the Wenchuan case, there was no foreshadowing surge in small quakes, said Che Shi, Deputy Director of the CEA Monitoring and Prediction Division. The minor quakes were all less than 1.0 on the Richter scale.
Che said that his office had not received any public report predicting the Wenchuan earthquake or accounts of abnormal animal behavior prior to it.
Forecast dilemma
Che also noted that short-term forecasts should help people take precautions against an earthquake. But living in a tent or in the open air, especially if the weather is bad, could cause serious health problems and even deaths, particularly if the forecast is not specific and the efforts drag on for weeks or months. The direct and indirect costs might be huge, perhaps even comparable to the damage caused by a devastating quake.
A successful forecast would justify the costs of preparation, however high, but a false alarm would make experts into scapegoats, so scientists are cautious. Entrusted with the task of prediction, CEA experts have frequently found themselves asking what they should do.
Attempting to predict of potentially strong aftershocks on May 19-20 in Wenchuan and in neighboring areas was a trying task. "We hesitated for hours," recalled a CEA senior researcher who was involved in the decision-making.
The forecast turned out to be incorrect, but the public understood, and it exacted little extra cost on the affected communities, which were already on alert for any trembling underfoot.
Evidence and reasoning
Earthquake scientists anchor their studies on scientific evidence and reasoning. They propose issuing an official forecast only when they believe the evidence supports doing so. This is their defense and philosophy. Blame is a part of life in their profession, one observer said.
Ill-supported predictions are like gambling. They are usually based on inadequate evidence or mere intuition. It would be sheer luck if a prediction like that proved correct, but a real scientist would not do that, the same observer said.
"If quake scientists have done their job in accordance with the norm, they should not be blamed, whether for false alarms or zero alarms," said Zhang Dan, a veteran media consultant in Beijing.
In the Wenchuan case, the absence of an alarm was not a dereliction of duty, at least not judging by the CEA experts' accounts.
Nonetheless, seismologists might feel even deeper sorrow than others, perhaps wishing that their forecasting ability could be more advanced.
"I couldn't hold back tears in the office," said a scientist who asked not to be identified. "At the sight of the appalling scenes, especially the suffering of children, who wouldn't be disturbed?"