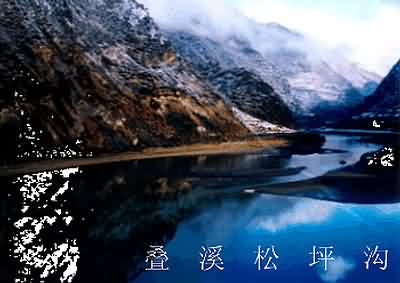 Located in the southeast Aba Tibetan and Qiang Autonomous Prefecture, northwest Sichuan Province, Maoxian County covers an area of 3,885 square km. One hundred and ninety-one km from Chengdu, capital of Sichuan, Maoxian is a vital hub linking Jiuzhaigou and Huanglong, two tourism resorts listed as world heritage sites. It neighbors nine other counties including Wenchuan, Beichuan, Mianzhu and Shifang. The Minjiang River, a tributary of the upper reaches of the Yangtze River, flows north to south through the whole county.
Population
The county is home to the largest number of Qiang people. It has a population of 109,361 (as of 2007), with 89 percent of them being Qiang people. Inhabitants of west China even in ancient times, their activities were carved on tortoise shells, tracing back to as early as the Shang Dynasty (1600-1046 B.C.). During the Qin Dynasty (221-206 B.C.), they began to migrate to other places and part of them came to Maoxian County.
Physiognomy
The area is dominated by high mountains, thick forests and deep valleys. The highest altitude is 5,230 meters, and the deepest valley sea level is a mere 890 meters. With a complex geological structure, the county is one of the most quake-prone areas due to its location on the seismic belt.
Climate
The temperature difference between the high mountains and deep valleys, and between day and night, is great. The winter is cold and summer cool. The annual average temperature is 11.2 degrees Celsius, with the highest temperature hitting 32 degrees and the lowest, -11.6 degrees.
Natural resources
The minerals found here include phosphorous, manganese, and marble. The county also harbors 56 species of trees, including fir, spruce and gingko; 574 species of medicinal herbs, such as caladium, Chinese caterpillar fungus, and tuber of elevated gastrodis; as well as 41 species of wild birds and animals, including the giant panda, yakin, leopard and argali.
Tourist Attractions
The tourism resources in the county are categorized into -- natural tourism resources; science popularization; and Qiang culture tourism.
a. Songpinggou Scenic Spot. Visitors are treated to sweeping vistas of torrential streams and lakes, dense forests, and mountains. The area covers 160 square km and is home to grand blockhouses -- stone-made castle dwellings of the Qiang ethnic minority, whose charming folk customs are also on display.
b. Baodinggou Nature Reserve. With its rolling hills and crisscrossing gullies, the reserve is also a haven for unique botanical and zoological resources. Giant pandas and snub-nosed monkeys inhabit the place, along with lush, dense forests, and seas of azalea.
c. Diexi Earthquake Site. Diexi, a city built in Ming Dynasty (1368-1644), was a military stronghold and commodity distribution center in ancient times, with the city wall being three meters high and over 300 meters in girth. However, the entire city sank following a 7.5-magnitude earthquake on August 25, 1933, resulting in the deaths of the 3,000-odd soldiers and civilians. The ancient site is intact, and artifacts include the corner of an east gate, a section of a stone lion, and a stone tablet.