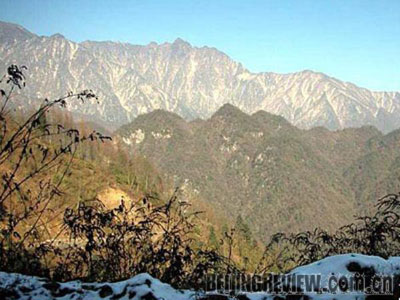 The Yinghua Mountain Scenery Area
Situated 60 km from northwest Chengdu and 20 km from southwest Deyang, Shifang is a county-level city in Deyang City. It covers an area of 864 square km, and has a population of 430,000 (as of 2004).
Climate
It has a subtropical humid climate, which means more cloud and fog and less sunshine. The annual temperature is 13-17 degrees Celsius.
Economy
Regarded as the shining pearl of western Sichuan, it has witnessed rapid economic development in recent decades, and is now one of the top 10 industrial counties in western China. Food processing, chemicals, metallurgy, building materials, and medicine are the five pillars of Shifang's economy.
Natural Resources
It owns an abundance of natural gas, coal, and mineral water. More than 1,000 varieties of plants and herbs can be found here. It contains more than 300 species of wildlife, including the giant panda and the golden snub-nosed monkey. Forest coverage reaches 46.7 percent.
Tourist Attractions
a. The Yinghua Mountain Scenery Area
Located 37 km away from the city center, it sits on the transition zone between the Tibetan Plateau and the Sichuan basin, and covers an area of 180 square km. It is sacred to Buddhists; over the past centuries, around 50 temples have been built on the mountains. Valleys, cataracts, rare plants and wildlife make it a good choice for vacations, especially in summer (the average temperature is 25 degrees Celsius).
b. The Mausoleum of Li Bing
Located 20 km away from the city center, the mausoleum covers an area of 24 hectares and was built to commemorate Li Bing, a hydraulic engineer in the Qin Dynasty (221-206 B.C.). He became renowned for his association with the Dujiangyan Irrigation System, the construction of which he is traditionally said to have instigated and overseen. Because of the importance of this 2,000-year-old irrigation system to the development of Sichuan and the Yangtze River region, Li is widely considered as a great Chinese cultural icon, hailed as a great civil administrator and water conservation expert. The architecture inside the mausoleum, including the memorial gateway, artificial lakes, bridges, roads, pavilions and tomb, are all skillfully built according to topographic conditions.