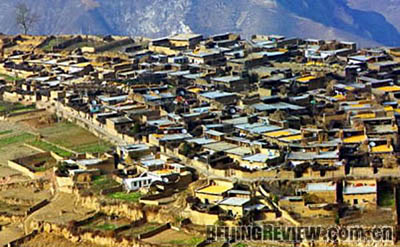 The Luobozhai Village
Situated 146 km away from Chengdu, capital of Sichuan Province, Wenchuan is a subdivision of Aba Tibetan and Qiang Autonomous Prefecture. It is one of the country's only four counties that are inhabited by the Qiang ethnic group (the others being Lixian, Maoxian and Beichuan). It covers an area of 4,084 square kilometers. The subdivisions include six towns--Weizhou, Xuankou, Shuimo, Yingxiu, Mianchi and Wolong -- and eight townships: Keku, Longxi, Yanmen, Caopo, Yinxing, Sanjiang, Baihua and Gengda.
Climate
It has eight vertical climate zones, which features humidity in the southern part and dryness in the north. In the area with an altitude below 2,000 meters, the annual temperature is 13.5-14.1 degree Celsius, and rainfall hits 528.7-1332.2 mm.
Economy
Regarded as the "industrial economic corridor" of the prefecture, it is one of the country's listed non-polluted production bases for fruits and vegetables. It is a hub for several emerging industrial gardens, thanks to investment projects. The telecommunications network coverage reaches over 85 percent of the county.
Population
As of 2007, it had a population of 105,436, and the Han nationality accounted for 56.2 percent; the Qiang and Tibetan minority groups accounted for 28.27 percent and 14.4 percent respectively.
Natural Resources
More than 4,000 varieties of plants and herbs can be found here. It contains 2,004 species of wildlife, including the giant panda and the golden snub-nosed monkey.
Tourist Attractions
The Qiang villages and the area's natural scenery are its biggest draws.
a. The Luobozhai Village
A marvelous location on a small plateau near the top of a mountain, this is the oldest and largest Qiang residential village in the world that is made up of loess, and has a stunning view of the main Minjiang River valley. Unlike other Qiang villages that are equipped with block buildings (for the sake of security in ancient times), it has a tight self-defense system-houses that are accessible and connectible from different floors. The Qiang tradition is well preserved here: the ground floor is for livestock; the second floor is for residential purposes, and the upper floor is for food storage and threshing. Moreover, the building materials here are made up of loess and wood from the mountain, rather than stones.
b. The Three River Eco-tourism Scenic Spot
Covering an area of 188 square km, 95 km away from Chengdu, the spot (where Xihe River, Zhonghe River and Heishihe River converge) is renowned as a "forest hospital" where visitors can find pristine scenery-virgin forest, mountain streams, grassland, and valleys. The average temperature here is 12.9 degree Celsius, and the air quality is of the first national standard level (Air Pollution Index between 0-50).