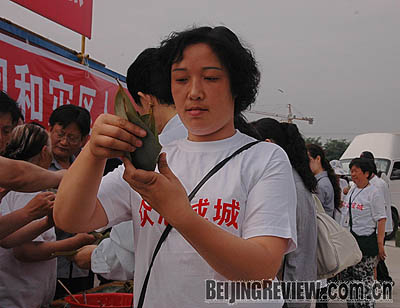 ZONGZI PROJECT: Volunteers greet survivors living in the resettlement camp by making 2000 zongzi for them as a wish for their good health (HU YUE)
The May 12 Wenchuan earthquake was overwhelming. It destroyed millions of houses and billions of hearts-but could not stop the Chinese tradition of celebrating the Dragon Boat Festival, which fell on June 8 this year, nearly one month after the devastating earthquake happened.
More than 1,000 victims in the Happy Home Community, one of the largest resettlement sites of Dujiangyan City, about 50 km away from the epicenter Wenchuan, joined in the festive happiness of the nation. It is a traditional part of celebrations all over the country to eat steamed rice dumplings called zongzi, salted eggs, and pray for a peaceful year on the festival. But this year, they spent the festival not only with families, but also with those who have come to provide help.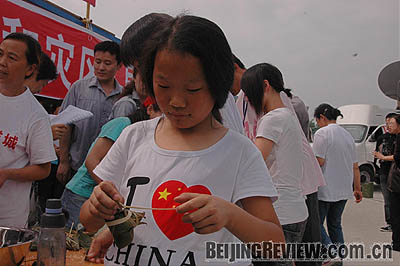 CHILDREN'S DELIGHT: The Dragon Boat Festival is always a happy day for the kids as they can eat as much zongzi as they like. Zhan Xinyue, nine-years-old, who lived in the resettlement camp, made two zongzi to give to her parents as surprise (HU YUE)
The annual Dragon Boat Festival falls on the fifth day of the fifth lunar month, the date when the great poet Qu Yuan in the Warring States Period died thousands of years ago. Out of despair for the fatuous and self-indulgent King of Chu State, Qu committed suicide by throwing himself into the Miluo River. Ancient Chinese therefore fed fish in the Miluo River with zongzi so that Qu's body would not be eaten. To memorize this patriotic poet, Chinese people gradually developed the tradition of eating zongzi on that day every year.
In south China, boating races in boats made to resemble dragons are held on that day. Also, on the morning of that day some people would hang the Chinese plant species mugwort on their doors as a symbolic means to dispel bad luck and wish for peace and health.
It was the first festival that citizens in the Happy Home Community had embraced since moving in. The community prepared over 2,000 salted eggs for the victims. Local citizens of Dujiangyan offered zongzi of different tastes. A group of volunteers even brought fresh glutinous rice, red beans and jujubes to make one variety for the victims. Wang Ruhai, a 45-year-old volunteer from Chengdu, capital city of Sichuan Province, told Beijing Review that they planned to make over 1,500 zongzi as a comfort to the suffering victims to help them recover from their past miseries.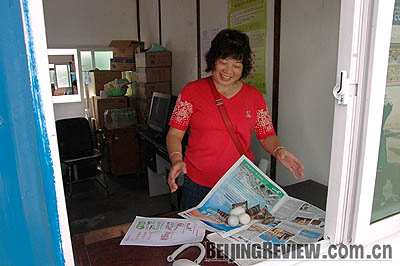 A survivor is delighted to be presented with salted eggs (HU YUE)
But it was not an easy job to make so many zongzi at a time since producing the food is believed to be a very complicated process. Wang said 20 volunteers had been learning how to wrap zongzi for two days and came to start the project very early in the morning. Though the zongzi they made were by no means perfect in shape, they were tasteful enough for the local Sichuan people, who are famous in China for enjoying good food, said Wang.
Zhou Xiaoping, Director of the Community Management Committee, told Beijing Review that they had specially prepared presents for the elderly and kids of the camp, such as vacuum cups and toys. What's more, the camp citizens could enjoy a big lunch for holiday, said Zhou.