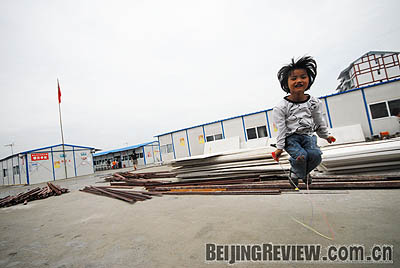 JUMP FOR JOY: For children in Happy Home Community, the resettlement camp is a place where friends and fun are easy to find
Nearly one month after the devastating earthquake in Sichuan Province, Dujiangyan, one of the worst-hit cities, is showing signs of recovery. Restaurants and supermarkets have reopened and are crowded with shoppers. Street vendors have returned to sell their wares, and streams of people are back on the sidewalks getting on with their lives.
Only the tents and collapsed buildings still serve as a reminder of what the city has experienced. Just 50 km from the epicenter in Wenchuan, two thirds of Dujiangyan was destroyed by the earthquake. More than 3,000 people died and tens of thousands more were left homeless, according to official statistics.
The loss of a home has been a devastating experience for many people in Dujiangyan. Home symbolizes a place to relax, an undisrupted peace and a safe haven. To see it in ruins can be heartbreaking.
The authorities have been working by erecting temporary homes around the city. By June 7, 14 resettlement sites had been set up, housing over 20,000 people.
Shelter and comfort
The resettlement camp on the Second South Ring Road of Dujiangyan is one of these temporary homes where victims of the quake can find shelter and comfort. Named Happy Home Community, it was set up using money from the government and donations. Aid vehicles come and go at the community passing through a gate manned by armed police whose job is to see nothing goes missing.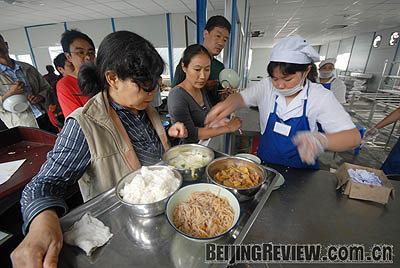 HEALTHY DIET: A nutritious menu that changes daily ensures residents in Happy Home Community do not get bored of the temporary settlement's food
Happy Home Community is made up of 530 white one-story makeshift houses, with 10 houses in a unit. Each house has an area of 12 to 14 square meters. Zhou Xiaoping, head of the community management committee, told Beijing Review that starting from May 17, construction of the rooms was completed in six days. By June 7, there were around 1,100 displaced people in the community, she added. Zhou, like other committee members, is a volunteer.
Zhou said two to three members of a family are usually housed in one room. For better management, each room and each unit has a director. Huang Xing, a 12-year-old boy who was elected director of Unit 28, told Beijing Review that one of his daily routines was to record the health of people in his unit and report his findings to the community management committee.
Power and drinking water supplies are ensured at Happy Home Community. Facilities including toilets, shower rooms and dining rooms are all public.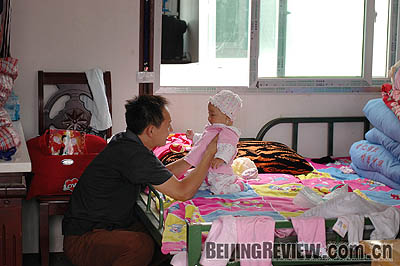 HOME COMFORTS: A father plays with his baby at his unit in Happy Home Community. By June 1, there had been 14 temporary communities in Dujiangyan for people made homeless by the earthquake
At dinnertime, men and women, young and old, queue at the kitchen to get food-dishes like stewed beef with brown sauce, diced chicken with peanuts and fried potato strips-from a menu that changes every day.
Liu Yuping lives in Room 4 of Unit 17 with his grandson. As the quake destroyed the 68-year-old's fifth-floor apartment, he ran to rescue the boy, who was playing in the yard.
Minutes later the building collapsed and all Liu's property was gone. "I am satisfied with life here-all daily necessities are provided for," he told Beijing Review.
Same goal
According to Zhou, all the people in the settlement are local victims with nowhere to go, no property and no source of income. They are encouraged to live in the community for no longer than three months. Despite their different ages and backgrounds, everyone in the community has the same goal-to get on with life.