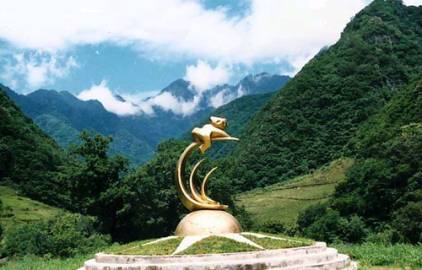 Under the jurisdiction of Guangyuan City of Sichuan Province, Qingchuan County is located north of Sichuan Basin. Covering an area of 3,216 sq km, the highest elevation of the county is 3,837 meters and the lowest, 492 meters.
With a population of 250,000, including 220,000 rural people, the county administers nine towns, 28 townships, and 271 villages. In addition to the Han people, there are nine other minority groups in the area, including the Hui, Tibet and Zhuang minority nationalities.
The county boasts several ancient relics with a history of over 2,300 years.
Climate
It has four distinct seasons, with annual precipitation reaching 957.5 mm. The annual duration of sunshine is a mere 1337.6 hours, and the yearly frost-free period, 282 days.
Natural Resources
The area is abundant in land resources, with per-capita land reaching 1.32 hectares; arable land, 0.12 hectares; woodland, 1.16 hectares; and pastoral land, 0.07 hectares.
Its forest areas account for 42.3 percent of the total area, and involve some 4,000 species of wood plants, such as fir, gingko, and camphor trees. The county also harbors mountain delicacies, including mushroom, tea, and various herbs. Over 70 mines can be found here, storing over 20 varieties of mineral resources, including silver, limestone, copper and zinc.
Several rivers in the county, originating from the Yangtze River, contribute to the county's water storage capacity of 15.7 billion cubic meters, and an electricity generating capacity of over 1 million kw.
Tourist Attractions
Its scenic lakes, mountains, forests, valleys and limestone caves make it a natural tourist haven.
a. Tangjiahe River Nature Reserve
This reserve is home to over a dozen wild animals like the panda, snub-nosed monkey, yakin and bear, not to mention natural scenery consisting of rivers, waterfalls, mountain peaks and ravines. Visitors can glimpse not just the panda in the wild, but also the leopard, yakin, and golden eagle.
b. Jinzishan Mountains Scenic Spot
This spot is located in the south of Qingchuan County. Tourists can savor magnificent vistas comprising wooded mountains, clear waters, precious birds and rare animals. Fragrant smells from fruit and flowers waft everywhere. This spot is a veritable feast for the senses, in every way.