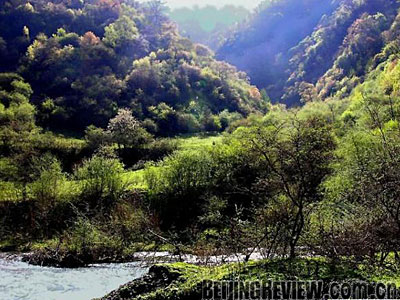 Wanglang National Nature Reserve
Located in the northwestern part of the Sichuan Basin, 90 km away from Chengdu, Mianyang is a prefecture-level city, the second largest in Sichuan Province. It covers an area of 20,249 square km and has a population of 5.38 million (as of 2007). Its subdivisions include Fucheng District, Youxian District, Jiangyou City, Santai County, Yanting County, Anxian County, Zitong County, Pingwu County and Beichuan Qiang Autonomous County.
Climate
It has a humid subtropical climate with an annual average rainfall of 1,100 mm. The average temperature is 16 degree Celsius, with a maximum temperature of 39 degree Celsius in summer and minimum of -5 degree Celsius in winter.
Economic Development
It is one of China's major centers for scientific research and production, and boasts 18 institutes, including the China Academy of Engineering Physics and the China Aerodynamics Research and Development Center. Moreover, it houses 50 large- and medium-size enterprises, and six science colleges.
The city is conveniently served by transport, with highway and railway connections to several of China's major cities. The Mianyang Airport has direct flights to Beijing, Shanghai and Guangzhou.
Natural Resources
Fifty-seven types of minerals, including coal, iron and manganese, can be found here. It has 55 species of nationally protected animals, including the giant panda and the golden snub-nosed monkey, and more than 20 varieties of rare herbs. Forest coverage is 45 percent.
Tourist Attractions
Mianyang is noted for its beautiful scenery, long history, and deep cultural roots. It is the hometown of the famous poet Li Bai, and features many historical relics of the Three Kingdoms period (220-280).
a. Wanglang National Nature Reserve
Established as a nature reserve in 1965, Wanglang National Nature Reserve sits on the transition zone between the Tibetan Plateau and the Sichuan basin, where elevations range between 2,300 and 4,980 meters. It covers an area of 320 square km and encloses five different ecosystems, from rocky 5,000m snow-covered mountain peaks to alpine old-growth forest. It shelters a multitude of rare and endangered species, including black bears, brown bears, red pandas, takin, musk deer, and rare varieties of pheasants. Plants, from rare orchid species to valuable medicinal herbs, grow in abundance. It also harbors one of China's few remaining virgin forests. Logging here was banned as early as it was established.
The area's tall trees, thick undergrowth bamboo and flowing streams combine to make it a perfect habitat for giant pandas. Official counts estimate that of China's approximately 1,000 pandas remaining in the wild, 80 percent live in northern Sichuan, with more than 25 percent of them in Pingwu County, where Wanglang is located. Created as one of the country's four original panda reserves, it serves as a scientific and training base for panda conservationists. China's first GIS (geographic information system) database was established in Wanglang in 1998 in order to gather valuable information about pandas and their habitat. It also collaborates with professional organizations and institutes, such as the World Wildlife Fund and Peking University, to better protect wildlife.
b. Former Residence of poet Li Bai
Li Bai (701-762) was also called Tai Bai or Qing Lian Ju Shi (literally "the Blue Lotus Recluse") as his poetic name. Approximately 1,100 of his poems remain today.
Located in Jiangyou City, 40 km away from Mianyang City center, the former residence of poet Li Bai is actually a cultural and scenic corridor, and consists of his tomb (only clothes, no body), memorial museum and park, all of which commemorate Li, one of the most renowned and admired poets in China.