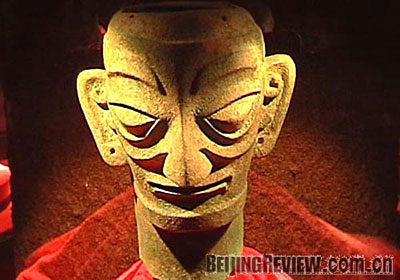 A Sanxingdui bronze head (Photo from ke-pu.cn)
Situated at the northeastern edge of the Sichuan Basin, 58 km away from Chengdu, Deyang is a prefecture-level city in Sichuan Province. It covers an area of 5,954 square km, and has a population of 3.82 million (as of 2004). Its subdivisions include Jingyang District, Shifang City, Guanghan City, Mianzhu City, Luojiang County and Zhongjiang County.
Climate
It enjoys a humid subtropical climate. The average temperature is 16.6-17.9 degrees Celsius in 2007, and the average rainfall is 1,088 mm.
Economic Development
It is a primarily industrial city, with the China National Erzhong Group Co., Dongfang Electrical Machinery Co. Ltd., and various other high-tech businesses contributing to its economy. The city is also known for a liquor factory called Jiannanchun, in the county-level city of Mianzhu.
Natural Resources
Thirty-five types of minerals, including coal and phosphate, can be found here. It has large reserves of natural gas as well. It has 234 species of wild animals, including first- and second-class nationally protected animals such as the giant panda and the golden snub-nosed monkey; and more than 3,500 varieties of plants and herbs. Phosphate rock and natural gas reserves account for 90 percent and 17 percent, respectively, of the province's total production.
Tourist Attractions
a. The Sanxingdui Relics
The Sanxingdui (literally "the three-star mound") Relics Museum, featuring the ancient Shu culture famous for its bronze mask, is one of the first national 4A-level scenery areas. Located in Guanhan City (county-level), 40 km away from Chengdu, it covers an exhibition area of 4,000 square meters and opened to the public in 1997.
This ancient culture, dating back to the 11th century B.C., has remarkably advanced bronze casting technology, which was acquired by adding lead to the usual combination of copper and tin, thereby creating a stronger substance that could be used to make substantially larger and heavier objects. Apart from bronze, Sanxingdui discoveries included jade artifacts consistent with earlier Chinese Neolithic cultures.
b. The Confucius Temple
Located in the city center, it is the country's third largest Confucius Temple, and the largest one in southwestern China. First built in 1206, it remains one of the most well protected relics, highly valued in terms of art and history.