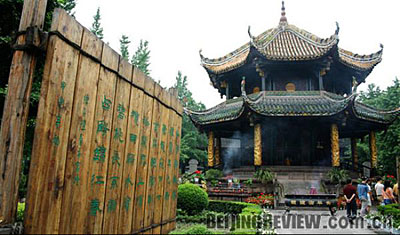 Situated at the western edge of the Sichuan Basin, Chengdu is a sub-provincial city and the capital of Sichuan Province. It covers an area of 12,390 square km, and hosts a population of 11 million. It is also one of the most important economic centers and communication hubs in China.
Previous Names
a. The Brocade City
In the Western Han Dynasty (206 B.C.-A.D. 23), Chengdu brocade was hugely popular among the elite classes. The emperor even appointed a Jin Guan (an official in charge of brocade production) to Chengdu. Since then Chengdu has been called Jin Guan Cheng (Brocade Official's City), or in short, Jin Cheng (Brocade City).
b. The City of Hibiscus
In the Five Dynasties and Ten States period (907-960), Meng Chang, the king of the Later Shu State, ordered that hibiscus be planted on the fortress wall surrounding the city. Henceforth Chengdu started being referred to as the City of Hibiscus. Today the hibiscus is still the city flower of Chengdu.
(Note: The aforementioned are considered nicknames more than anything else. The name "Chengdu" was never changed in the thousands of years since the city was founded.)
Geology and Climate
Chengdu is one of the Chinese cities with the least amount of sunshine. The climate is usually mild and humid. The summer is longer, but not as hot as that in cities such as Wuhan and Nanjing on the lower reaches of the Yangtze River. Average daytime highs are 10 degrees Celsius in January and 30 degrees in July. Rainfall peaks in the summer months.
Economic Development
Over the past few years, Chengdu's economy has flourished rapidly. Today its industrial base is very broad, includes light and heavy manufacturing, aluminum smelting, and chemicals. The textile industry remains important, with cotton and wool mills added to the traditional manufacturing of silk brocade and satin.
It has long been a national base for electronics and IT. Several key national electronics R&D institutes are located here. The city's Hi-Tech Industrial Development Zone has attracted a variety of multinationals, including Intel, IBM, NOKIA, Alcatel, Motorola, and Microsoft. In 2009, Chengdu will host the World Cyber Games Grand Final, the first time China is hosting the world's largest computer and video game festival.
Chengdu is now building itself into west China's financial hub, and has successfully attracted major international financial institutions, including Citigroup, HSBC, Standard Chartered Bank, ABN AMRO, Bank of East Asia, and so forth. In addition, almost all the domestic banks and securities brokerage firms have located their regional headquarters or branches in Chengdu.
Culture and Folklore
People from Chengdu (or Sichuan, in general) tend to favor spicy food. Sichuan cuisine enjoys a worldwide reputation, and includes Mapo Doufu (spicy bean curd), hotpot, and Dan Dan noodles (a spicy sauce containing preserved vegetables, chili oil, Sichuan peppers, pork, and scallions served over noodles).
Chengdu outnumbers Shanghai in terms of teahouses and bars, despite having less than half its population. The inhabitants have a reputation both within Sichuan and in China at large for having a laid-back attitude, and for knowing how to enjoy life.
Sichuan opera is a kind of Chinese opera originating in Sichuan Province. Today's developed version combines five historic melodic styles. "Face-Changing" is an ancient Chinese dramatic art that is part of the more general Sichuan opera. Performers wear brightly colored masks and costumes, and move to quick, dramatic music. However, within a fraction of a second, their masks change -- revealing completely new, vibrant visages.