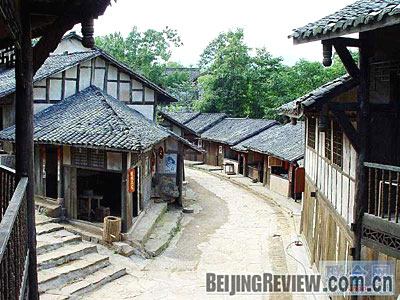 Located in the northwestern part of the Sichuan Basin, 110 km away from Chengdu, capital of Sichuan, the county covers an area of 1,404 square km and has a population of 500,000.
Geology and Climate
It enjoys a humid subtropical climate. The average temperature is 16.3 degrees Celsius, and the average rainfall is 1,260 mm. The air quality is of the second level, national standard (Air Pollution Index between 50-100).
Economy
It has efficient, advanced industries, and is the country's largest producer of chromium salt. It is also the largest konjack-processing center in China. In 1994, it was listed as one of the experimental counties involved in the national Sci-Tech Achievement Popularization Project.
Infrastructure
A satellite city of Mianyang Sci-Tech city, the county is adjacent to the Baoji-Chengdu railway, Chengdu-Mianyang-Guangyuan superhighway, and Mianyang Nanjiao Airport. It boasts a high-powered modern telecommunications network, including ADSL and high speed broadband, and enjoys vast resources of power, water and natural gas. It also features a 220-kv transformer substation and five 110-kv transformer substations.
Natural Resources
Twenty-nine types of minerals, including coal and phosphate, can be found here; it has 77 species of first- and second-class national protected animals, including the giant panda and the golden snub-nosed monkey; and more than 100 varieties of rare plants and herbs. Forest coverage reaches 42 percent.
Tourist Attractions
It has three national-class scenery areas: The National Geological Park of Sponge Reefs, the Qianfoshan National Forest Park, and the largest hi-tech wind channels in Asia. It also aims to project itself as a "thermal spring county", thanks to its high quality Luofushan thermal springs.