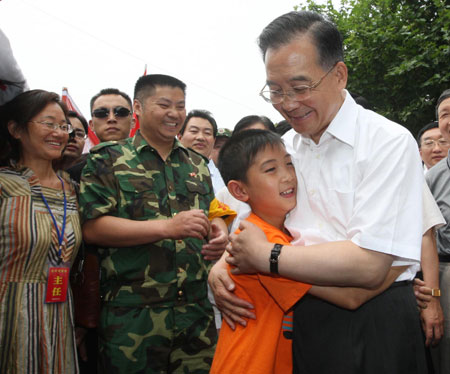 Chinese Premier Wen Jiabao (R Front) embraces Wang Shichen, a 12-year-old primary school pupil of grade six, when he inspects the resettlement at Meirui Textile Company in Mianyang, a city in quake-hit southwest China's Sichuan Province, June 6, 2008.
Chinese Premier Wen Jiabao on Saturday visited with some earthquake survivors who had resettled in public camps in Sichuan Province's Mianyang City.
For refugees staying in low-lying lands in the southwest Chinese province, they were also at threat from the huge "quake lakes" bursting their banks.
The 8.0-magnitude tremor on May 12, which had claimed at least 69,134 lives to date, had created the threatening 200 million cubic meter Tangjiashan quake lake which overlooks Mianyang, about 70 meters above the city.
The local government is currently relocating more than 210,000 people to safer grounds.
In his third visit to the province since the quake, Wen said ina camp harboring hundreds of the quake homeless, "I hope you would understand our efforts to resettle you away from your home to a relatively safe place because the swelling quake lake is so dangerous."
"Yes, we understand," the locals replied.
"We are trying all out to drain the quake lake in accordance with our contingency plans but anything could happen under such complicated climatic, geologic and environmental conditions," Wen said.
"We appreciate all your efforts and cooperation with the government to defuse this time bomb."
"We are grateful to you, Mr Premier," 60-year-old villager Wu Xiaofeng said.
"The priority of our resettlement task is to make sure everyone will be safe," Wen replied.
"You visited Sichuan thrice, and you should take good care of yourself," a young man chimed in.
"It's my duty," Wen said. "I'm less unsettling after hearing your consideration. I'm afraid people suffering from so much might become jittery and impatient. Are you?" he asked.
"It's okay," one woman replied.
"This is a massive disaster to not only the nation, but also to everyone here," he said.
Wen then walked into a makeshift police station to ask the officers to be extra alert while patrolling the residence camps at this unusual time.
After shaking hands with an old woman who was sitting on the lower part of a bunk-bed in a big tent, Wen asked whether she felt uncomfortable staying with others.
Showing consideration for others, 87-year-old Mao Fengying said, "Rescue workers from the armed forces are really exhausted. They need better living conditions in the tents."
Touched by this request, Wen then passionately asked the armed forces commanders to improve the living conditions of soldiers.
He then bid farewell to Mao to leave for the next site.
Twelve-year-old Wang Shichen raised a question for Wen. "How long do we have to stay here and when shall we go back home?"
"I think you might go (home) after the drainage," he said.
"Could I hug you?" the boy said after his question. Wen hugged him immediately.
At a temporary retirement home in the camp, Wen greeted 100-year-old Chen Jiazhen. "You would work hard," the centurion told Wen. "Of course, I will," the premier responded with sincerity.
Seeing an old man writing a letter of gratitude to the armed forces rescuers and volunteers, Wen said he was also willing to write some words.
"Respect and strength," he wrote on the reverse side of the old man's letter.
(Xinhua News Agency June 7, 2008)