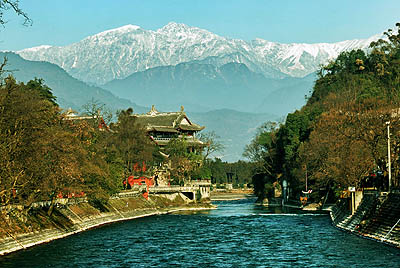 Situated in the west of Chengdu Plain in Sichuan Province, Dujiangyan City is under the jurisdiction of Chengdu, capital of Sichuan. Mountains, plains and water account for 60 percent, 30 percent and 10 percent, respectively, of the city. With a population of 578,000 (as of 2005), Dujiangyan governs 17 towns, two townships, one provincial-level hi-tech development zone and 21 resident and neighborhood committees. Urban residents number over 200,000 here.
Natural Resources
In addition to multiple farm produces including rice, corn, wheat, and rapeseed, this arboretum in west Sichuan harbors more than 2,000 kinds of wild plants and rare animals like the panda and snub-nosed monkey.
Tourist Attractions
Apart from the world-renowned Dujiangyan irrigation infrastructure, the city is home to many ancient cultural relics such as the Erwang Temple (Temple of Two Kings), which was built over 2,000 years ago, Fulong Temple and Qianfo Pagoda (Pagoda of Thousand Buddhas).
Dujiangyan Irrigation System
The Dujiangyan Irrigation System, 48 km west of Chengdu, is another miracle project built in the Qin Dynasty (221-206 B.C.), and is considered the oldest functioning irrigation system in the world. The system is located on the upper reaches of the Minjiang River, a major tributary of the Yangtze River.
In ancient times, the West Sichuan Plain, now one of China's most populous and important agricultural regions, used to suffer from regular flooding of the Minjiang River in the summer, while it was stricken with drought in the winter.
The Sichuan governor, Li Bing, decided to harness the Minjiang River and launched the construction of the Dujiangyan Irrigation Project. He divided the river into two by building a midstream weir. The Minjiang splits into the Outer River that runs in its old bed, and the Inner River, which diverted to a new course to the east.
Thanks to the project, the plain has been more or less spared from flood and drought for more than 2,000 years, winning the name the "land of abundance" in ancient times.
The damless system, now watering more than 10 million hectares of the Sichuan Plain, was listed as a World Cultural Heritage site by the United Nations Educational, Scientific and Cultural Organization (UNESCO) in November 2000.