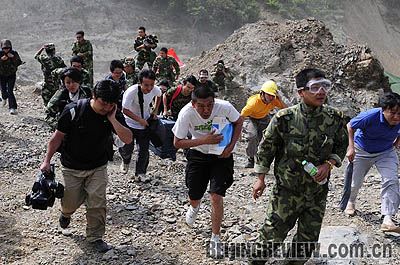 GETTING DANGEROUS: Engineering staff, armed policemen and journalists retreat from a diversion channel built to drain water from Tangjiashan quake lake on June 1
Rao Xiping is the head of a group of less than 20 water conservation experts, the only residents above the dam of Tangjiashan quake lake in Sichuan Province. Of over 30 quake lakes caused by rivers blocked by landslides in the aftermath of the earthquake on May 12 and thousands of aftershocks, the lake at Tangjiashan Mountain poses the most imminent danger of bursting.
"We wake up at 6 a.m. every day and immediately start the work of monitoring the water level. When the water flow from the upper stretches is slow, we measure the water level every two hours. When it is fast, the intervals of our measurements are between one hour and half an hour," said Rao, in an interview with Chengdu Evening News on June 3.
The statistics from their monitoring are simultaneously transmitted to the emergency command center of Tangjiashan quake lake, where more water conservation experts study the figures and come up with new strategies. Rao said three infrared ray cameras had been installed at the dam on June 1, which enabled observers to watch the water level at night.
Meteorological authorities have set up nearly 20 observation stations in areas around the quake lake, which are in charge of monitoring rainfall and water flow upstream.
Chinese Premier Wen Jiabao went to the banks of Tangjiashan quake lake by helicopter on June 5, as water levels rose steadily due to heavy rain and the possibility of the lake bursting increased. He demanded all measures possible be taken to guarantee that no single life is lost.
The first batch of armed policemen sent to defuse the danger of a major flood arrived at the site on May 26 after a long hike, when the lake already held more than 100 million cubic meters of water. The original plan to blast away the dam was abandoned in favor of digging a diversion channel to slowly drain it after experts determined that explosions could create further landslides.
Disaster-relief personnel and armed forces worked around-the-clock to complete a diversion channel on May 31. A total of 46 engineering vehicles, including excavators and bulldozers, had been airlifted to Tangjiashan by May 29. At the peak of the construction work, helicopters, flying at intervals of less than 10 minutes, brought 30 tons of gasoline for the machinery on May 29. At the same time, about 1,000 soldiers were on standby in a nearby town to carry the fuel to Tangjiashan if the heavy rain stopped flights.
About 135,500 cubic meters of mud and rocks have been removed from Tangjiashan Lake, leaving a 475-meter-long channel up to 10 meters wide leading from the blockage.
However, Liu Ning, Chief Engineer of the Water Resources Ministry, said on June 3 that due to the geographical instability of dams created by landslides, the Tangjiashan quake lake still had a 93-percent possibility of bursting.
Mianyang City, which will be flooded if the lake bursts, set up an evacuation plan on May 26. According to the three-phase plan, if the dam collapses by one third, 158,000 people will need to be evacuated; if the dam collapses by half, 1.2 million people will need to be moved; and this figure will rise to 1.3 million if the dam collapses completely.
When Vice Mayor of Mianyang City Lin Xin briefed media on the evacuation plan on June 3, he said the first phase of the emergency plan had been activated on May 30, when over 250,000 people downstream had been evacuated, moving into 252 temporary settlements. "We would be able to guarantee the safety of residents of submerged areas in the worst possible situation," said Lin.
Most evacuees are staying in tents on other high ground. In several towns in Mianyang, where people have been evacuated, soldiers cordoned off the streets and set up checkpoints to prevent residents from returning home. Those who need to return have to obtain permits from the local government and are allowed to stay no more than an hour.
By June 4, the government had earmarked 200 million yuan ($28.6 million) from the central budget for Sichuan to control the swelling lakes that threaten to burst and flood the downstream regions.