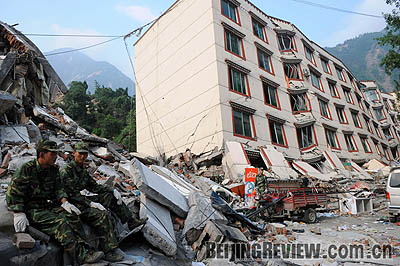 PRIORITY ONE: Rebuilding homes for millions of displaced victims is now the government's focus
 Zhu Jing had never expected to fall into such dire straits: She has nowhere to go, nothing to her name, and is burdened by the debt of a massive housing loan. After the earthquake she immediately fled from Dujiangyan, Sichuan Province, one of the worst-hit areas, to nearby Chengdu, the provincial capital.
"The disaster has ruined my life's efforts," Zhu told 21st Century Business Herald.
Two years ago, Zhu bought a house in Dujiangyan and splashed out on furnishing and decorations. Now it has been reduced to rubble, and she owes the bank nearly 100,000 yuan ($14,286).
In Sichuan, Zhu is just one of the millions struggling on the edge of survival. Rough estimates put destroyed homes at around 4 million, and severely damaged houses over 16 million, most of which are not covered by earthquake insurance. Worse still, a large number of private and commercial properties were destroyed, such as cars, factories and shops.
Latest statistics show that the quake had brought about over 67 billion yuan ($9.57 billion) in losses to more than 14,000 industrial enterprises of Sichuan. Private properties suffered even more. According to economist Liu Zhengshan, direct economic losses arising from the disaster roughly added up to 525.2 billion yuan ($75 billion), 3.5 times that of the destructive snowstorms at the beginning of this year.
As a result, what haunts China right now is how to restore industrial production and more importantly bring the lives of victims like Zhu back to normal.
In fact, the rebuilding drive has already got into full swing.
A three-year campaign
When the Tangshan earthquake struck in 1976, China operated a planned economy, allowing little private possessions. The past 32 years have witnessed the country's transition to a market economy. It therefore will be China's first mass reconstruction project under a market economy.
The Chinese Government should play a leading role in waging the rebuilding campaign despite the market economy, Zhuang Jian, a senior economist with Asian Development Bank was quoted by the Financial Times as saying. It will be an arduous task to rehabilitate the many lost homes and resume production, added Zhuang.
The Chinese Government has formulated plans to tackle the conundrum.
The National Development and Reform Commission (NDRC) announced on June 1 that a post-quake reconstruction planning group had come into being, headed by the NDRC.
The group will take charge of developing rebuilding programs and making researches relevant policies.
On the same day, the planning group convened for the first time to deliberate on the proposed post-quake reconstruction programs.
Mu Hong, Vice Chairman of NDRC, announced a three-year timetable for China's revitalization efforts at a news conference held on May 28.
According to Mu, China will firstly come up with an overall plan for the reconstruction work within three months and at the same time materialize supportive measures and replenish aid funds. Then concerted efforts will be made to forge ahead with the recovery process.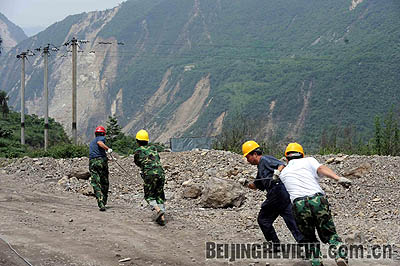 UP AND RUNNING: Wenchuan, the epicenter of the earthquake, has started to rebuild vital infrastructure
Mu stressed that rebuilding programs for urban and rural housing are a priority for the government.
"While drawing up reconstruction plans, we must fully consider the geological conditions and bearing capability of the natural resources and environment of these regions. We need to strike a balance between urban and rural areas, industrial and agricultural production," Mu said.