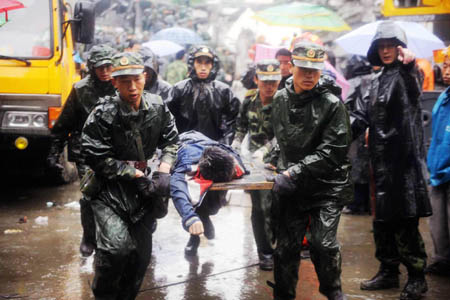 At 1.35 a.m. on May 13, a netizen with the ID "Xuanzidie" left a message on the net: "I'm not able to contact my father, who works in Wenchuan, and I'm so scared that I'm going to go mad..."
It was 11 hours after the May 12 earthquake, which measured 8.0 on the Richter scale, and shattered the once peaceful entire county in China's southwest Sichuan Province. The epicenter Wenchuan, the size of South Korea, completely lost contact with the outside world.
All the family members of the netizen, who was a 22-year-old girl in Shanghai, lived in Wenchuan. She surfed the Internet frantically all day for news of her kith and kin. Dozens of net friends added her to their QQ at baidu.com, comforting and encouraging her. A man even helped her find the telephone number of her father's company.
"I am really grateful to these friends, who kept me company and helped me a lot," she said.
Praying for lost souls
As the death toll escalated beyond 68,000, several websites put up eye-catching pages related to praying activities for the quake-affected. The number of netizens converging through QQ groups for prayer reached more than 5.7 million by 5.35 p.m. on May 18.
A QQ group advertised this on May 16: "Hongshan Square in Wuchang, Hubei Province, is to hold a candlelight activity at 7 p.m. May 17." The news spread rapidly among local netizens, attracting more than 1,000 people to the prayer session. They shouted slogans to show sympathy and support for victims, and sang songs to extol the motherland. They observed silence to show condolences for the dead, occasionally bending down to protect the candles from being extinguished by the wind.
Fond reunions
On the evening of May 13, a plea on a sina.com forum from a soldier in Wenchuan created a stir among computer users.
"I'm a soldier, so I'm willing to devote my life to saving quake victims, but I can't get touch with my wife, Wang Zhuo, who is on a cart in the city of Jiangyou," the message said. "I hope fellow townsmen give her some food, or even a bottle of mineral water."
Within hours, the message was reprinted over 10,000 times on the net. Netizens finally contacted the police, who found Wang shortly.
A message that said "Help Me Look for My Pregnant Wife" got more than 50,000 clicks.
Eight hospitals used cdqss.com, a search website in Chendu, to bring relatives together; subsequently, many Internet portal operators opened a kin-searching platform. A huge database was established quietly. Within a short hour, dozens of people found their family members, thanks to a site set up by students and teachers of the Chengdu University of Technology.
Financial relief
A quake-relief QQ group attracted many volunteers with monetary backing. They communicated with each other through Internet and drove to quake-hit areas to offer housing tents for victims.
Within 24 hours of the quake, a few websites opened up through a platform linking Jet Li's One Foundation and the Red Cross Society of China Beijing Branch, for individuals to donate to the disaster areas. In the first three days, the three donation platforms -- alipay.com, tenpay.com and YeePay - received more than 10 million yuan ($7 million).
Networking
After the quake struck, several grass-root non-government organizations communicated through the Internet, organizing a loose civil quake-relief group consisting of 150 members.
They exchanged information and shared relief work. NGO members in Guizhou and Yunnan would collect and transport materials to quake-hit areas. People in Chengdu would be responsible for communication and cooperation with the government departments concerned, finding out the latest quake situation, and setting up service centers as a hub to receive and distribute donated materials.
"It's a good way to coordinate with the local government to distribute these charity funds and materials to quake-victims," said Zang Lu, a member of the NGO's joint quake-relief office.
Zhang Lina was in charge of finding information and providing services for volunteers. She would assess volunteers, depending on whether they had had psychological consultation, any experiences caring for the disabled, and knew how to drive. Thus she would let them know if they were suited to entering the disaster-hit areas.
In addition to bringing together volunteers to provide aid, netizens helped direct relief efforts as well.
"I'm from Wenchuan. I know a mountainous top in Qipangou Village, 7 km from Wenchuan County, and it is quite suitable for a helicopter landing." This is a message put up by a girl called Zhang Qi, and it was spread among QQ groups on May 14 morning. Reading the message, the authorities contacted the girl immediately, and this eventually resulted in a successful air landing.
Netizens also provided rescuers information on the exact location of quake victims, thus saving more lives in Sichuan.
Cooperation essential
However, not many volunteers are able to offer a helping hand to quake victims, due to lack of timely information and communication with the local government. A team of volunteers from Beijing climbed to the quake-hit areas, with each carrying a bag weighing over 30kg. When they entered the city of Penzhou, on the other side of the big mountains, they discovered that the People's Liberation Army (PLA) had saved all the remaining survivors. Their efforts had come to almost nothing.
"We found a victim alive, but we could only use our hands to dig him out of the debris. It took us 10 hours to dig out the person, but he died due to serious wounds," a team member recalled.
Volunteer Wang Yue and his friends drove two cars full of food and water to the mountainous area of Mianzhu City from Chengdu, capital of Sichuan Province. To their surprise, people there hadn't yet received relief supplies, although the city was not difficult to access. The disaster-relief forces had been to the epicenter and remote mountainous areas, but the villages in-between had become a blind spot.
If the government and volunteers complement each other better in the future, the sky is the limit.
(Source: China News Weekly)