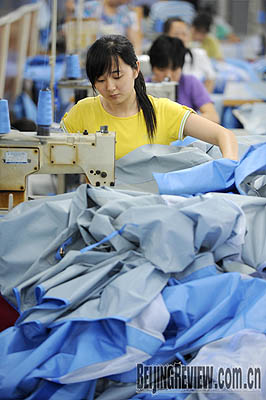 TENTS OF HOPE: China is pulling out all the stops to produce as many tents as possible to shelter those left homeless by the Wenchuan earthquake
"We've got blankets, instant noodles, mineral water… but no tents!" a frustrated volunteer calls out at the Chengdu relief distribution center after checking recently delivered relief supplies. It's a scene being played out by relief staff all over Sichuan.
As hopes of saving people trapped in the ruins fade, the quake-rocked areas are now faced with a new challenge-where to put the homeless survivors. And that means only one thing-tents and plenty of them are needed.
"Since May 14, a steady stream of relief supplies has poured into Sichuan, including over 400,000 tents. But we still need more tents," Chen Kefu, Deputy Director of the Civil Affairs Department, Sichuan Province, told a news conference.
Food and water are not a problem any more. Relief distribution centers are piled high with bottled water, instant noodles and other foodstuffs.
"Our biggest difficulty is what to do with these displaced victims," said Chen, "Large tents that can house over 20 people are especially needed. We are now cramming 10 people into a tiny tent."
The 8.0-magnitude quake flattened some 45,000 public buildings and damaged a total of 15 million houses. An estimated 5 million people lost their homes, meaning around 3.3 million tents are required, according to Xinhua News Agency. Villages of temporary housing are springing up like mushrooms in quake-hit areas.
The Central Government, which has appealed to the international community for more tents, will procure and deliver more tents and awnings to quake-affected areas, noted a State Council's earthquake relief official at a meeting presided over by Premier Wen Jiabao on May 20.
According to the meeting, another 40,000 tents will be collected and distributed to disaster areas before the end of May and an additional 800,000 awnings in June. Beside this, the Chinese Government has vowed to send 30,000 tents each day starting from May 30 up to a total of 900,000.
Premier Wen also pledged at the meeting to transport 250,000 units of temporary housing to quake-hit areas by the end of June and 1 million units within three months.
The international community has been quick to lend a hand. Pakistan, for example, has arranged 10,000 tents for the earthquake victims. "China had generously provided relief goods besides financial assistance for the people of Pakistan when it was rocked by an earthquake in October 2005. It is the time to stand with China in this time of ordeal," Pakistani Federal Minister for Food, Agriculture and Livestock Nazar Muhammad told Xinhua News Agency.
The government has enlisted 68 tent makers for the urgent supply of the much-needed temporary housing, and more companies would be given contracts in the next few days, Luo Pingfei, Vice Minister of Civil Affairs, said at a meeting held by the State Council earthquake relief headquarters in Chengdu, capital of Sichuan Province.
Luo said that the quality of the tents will be checked by the state military product quality supervision and inspection authorities.
Highlighting the urgent needs for tents, President Hu Jintao visited two tent manufacturers in Zhejiang Province, urging them to produce more quality tents to meet the needs of the quake-hit zone. Zhejiang, traditionally a tent production base, is currently shouldering the heavy load of victim resettlement.
Hu raised four requirements to tent manufacturers on his visit. First, production should be increased by every possible means. Second, tent quality must be ensured by maintaining a stringent standard for raw materials, processing technologies and delivery inspection. Third, the tents must be rush-transported to disaster areas as fast as possible. Fourth, relevant departments should be coordinated to ensure adequate power and funds for tent manufacturers.
On the frontline of tent production, tent manufacturers are working at full capacity. Some textile mills are also mobilized to contribute to the tent campaign. By May 22, Zhejiang Province had dispatched 11,195 tents to quake-hit areas.
From day one of the disaster, workers at Zhejiang Taipusen Leisure Goods Co. Ltd. have been working round the clock to fill an order of 50,000 tents. More than 500 sowing machines run day and night, manned by an army of 800 employees working extra shifts.
"We have halted production of all other goods and put aside export orders. It's currently our priority to take care of the quake victims in need," said a manager with the company to Economic Information Daily.
Ningbo Beilun Kaima Tent Factory, Zhejiang Province, donated 500 tents worth more than 100,000 yuan ($14,286), and suffered sizable losses for disobeying contracts with customers. "It's no big deal since it's our responsibility to make concerted relief efforts," factory manager Wang Yizhong told Economic Information Daily.