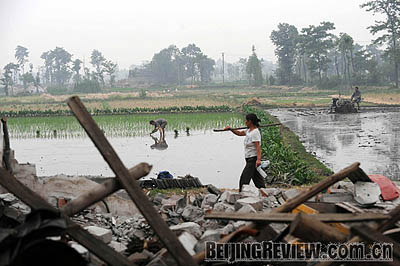 LIFE GOES ON: Farmers work in the fields planting rice in earthquake-hit Guangji Town in Mianzhu County, on May 24
Liu Jing's hometown, Xiangxi Village in Anxian County, Sichuan Province, was a picturesque place, in an area known to many as the back garden of the industrial city Mianyang, until May 12.
Since then it has become better known as an area of destruction brought by an 8.0-magnitude earthquake that shook the region, wrecking lives and buildings.
After 23 years living in the picturesque town, whose name literally means fragrant stream, Liu and others in the town have been left picking up the pieces of their lives and feeling lucky to be still alive.
Survivors
It was a muggy day on May 17, and Liu loitered at the gate of the Mianyang Sports Center, which was made into a temporary camp for quake survivors. On the left was a line of desks being used by the staff of the charity institutions to receive donations; crowds of displaced people convened in front of the gate and exchanged information with each other; more were busy registering with the camp administration as volunteers to help the refugees, for whom the 10,000-people stadium was like Noah's Ark.
"People living here are better off than my folks who are still in our hometown and waiting for aid," Liu told Beijing Review.
Though it was not the worst hit area, most of the houses in Liu's home village were flattened by the quake. Fortunately the number of casualties was lower than in Beichuan, Mianzhu or Shifang, but many were still left homeless with few daily necessities.
As the aftershocks continued and the roads remained blocked, vehicles were not able to enter the area.
On May 16, Liu, together with her 1-year-old son and 15-year-old sister, left the village and hitchhiked to Mianyang, arriving just before dark.
"My boss was a kind man, yesterday he came across me and gave me 800 yuan ($114), hoping for me to get through this," Liu said. She worked part time for a company in Mianyang a year ago.
Rebuild
On May 24, Beijing Review made a call to Liu, but it was his father Liu Yuhe who answered.
"It is much better now," he said. "Each villager has been allocated a bag of instant noodles, a bottle of water every day, and our village has been given 20 kg of edible oil. Besides this, many households have dug some grain out of the debris, which can last us for a while."
The father added that tents had still not arrived in the village and the township government had given them plastic sheets for shelter.
"After all this is our home. We are determined to stay here and wait for the government to help us rebuild it. As farmers we can't live without our land," he said.
Liu's mother told Beijing Review over the phone two days later that the electricity in the village had been restored and they had learned from the radio that nearby Chaping Township was much worse than their own. "We all think it is right for the government to give priority to their relief work," she said.
As rain came to the area Liu's father was busy salvaging anything useful from a cement warehouse in the village. "The remaining cement is important as we need it to rebuild our homes," the mother said, adding that the villagers were planning to plant rice seedlings soon.