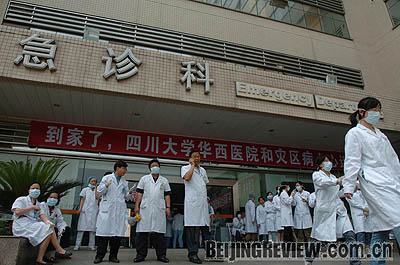 READY TO SERVE: Doctors and nurses of West China Hospital wait for the arrival of quake-wounded patients at the gate of the hospital
Gloom and sorrow overshadowed my heart on each day I spent in Sichuan Province covering the earthquake. My eyes were constantly wet at the sight of death and misfortune. Nonetheless, on May 18, as I was about to conclude my interviews in the earthquake-stricken region, I experienced a strong shock to my soul at West China Hospital in Chengdu, capital city of the province.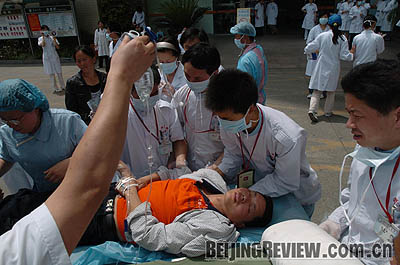 BETTER CARE: A wounded patient arrives at West China Hospital after transfer from a hospital in the earthquake-stricken area
West China Hospital is a large hospital with more than 4,000 beds. It has a history of over 100 years. In a few days since the earthquake, the hospital treated over 1,000 injured.
The sudden influx of a large number of patients did not compromise its rigorous treatment procedures. Medical staff were not distracted by the sirens of ambulances. Patients were rushed in continuously and received immediate attention and appropriate treatment in a temporary medical facility set up in the open air.
I presented my journalist ID and was allowed into the decontamination zone. Here dirty clothing and patient's bedding were sterilized. As a doctor cut open the sordid shirt of a patient, I raised my camera to capture the treatment process. The sound of the shutter alerted a nurse in her 50s. She suddenly turned around, waved both hands and shouted "No pictures! We need to protect the privacy of the patients." I was startled at first and then very embarrassed that I had tried to take a photograph of a partially clothed patient. Although there was no sign saying "no pictures allowed" outside the tents, I still felt bad about my bluntness. "I am sorry, very sorry!" I apologized sincerely.
Later, with the permission of the medical staff, I took some pictures that would not intrude upon the patients' privacy or hurt their dignity.
On my way to the airport, I felt warmth in my heart. When covering the earthquake and relief efforts, I saw how merciless nature could be, but I also felt and recorded the genuine nature of Chinese people, their bravery, resoluteness, generous love and respect for life.