Zhao Liang, 29, office clerk, male volunteer
"Perhaps you guys think it's a bit stupid, but actually they are the words most frequently heard after the quake," Zhao said with a smile, sticking an A4-size paper to a vehicle's window, with four Chinese characters Xuan Ze Jian Qiang (literally "choosing to be strong") on it.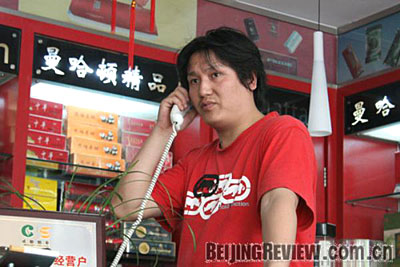 Zhao Liang believes everything will be fine if people choose to be strong
Zhao had worked for a real estate company in Chengdu, capital of Sichuan Province. When he heard about the earthquake, he stopped all work, borrowed a vehicle from the company, and drove to Deyang City, transferring disaster-relief supplies, including food and drinking water, to victims.
More importantly, china.org.cn's first-hand coverage of the quake is partly indebted to Zhao's hospitality and generosity, for he was willing to be the driver and guide in the early hours of the aftermath.
"I can feel the intensity with which people in Sichuan united after the quake," he said.
"People, men or women, young or old, rich or poor, queued up for hours waiting to donate blood. This, to be honest, has rarely happened elsewhere in the past.
Zhao and his friends took immediate action as disaster-relief volunteers.
"Everyone ought to do something. We should believe that everything will be fine if we choose to be strong," he stated.