Yang Liu, 17, student, female survivor
On May 15, Yang was found alive under the rubble of a collapsed building at the Dongqi Middle School of Deyang City (one of the worst damaged areas), after being buried for more than 60 hours.
Her classmate, within her reach, had already breathed his last. Her legs had been crushed under the cement floor and were completely mangled. But there was fearlessness on her face, as she frequently waved to rescuers and bystanders 20 meters away. Drinking water, food and a safety helmet reached her.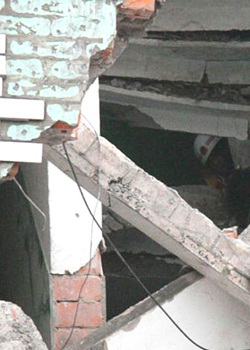 Yang Liu wears a safety helmet under the rubble
"Come on, girl! You've already done a great job, please do not give up, alright?" exhorted rescuers, trying their best to comfort her.
"I promise I won't give up if I can get out of the debris," the girl answered calmly and steadily.
At the same time, a hard decision -- amputation of her legs -- was made by medical staff with her parents' permission, because it was the only way to save her life.
Fortunately, it paid off. Rescue workers and bystanders burst into applause as Yang was finally reunited with her family, and then transferred to the hospital by ambulance.