Tang Hong, 26, teacher, female victim
Tang was rehearsing with her class for a dance show, part of the upcoming Children's Festival, at the Central Primary School of Hongbai Town in Shifang City, when the quake struck. During her last moments, she was holding three students tight in her arms, crouching in a corner of the classroom.
At the same time, her father Tang Shaojun was making every effort to rescue as many kids as he could from the rubble of the Central Kindergarten of the town, not far from where his daughter was. The last thing he wanted to see was his daughter's dead body. Sadly, twenty minutes later he was pulling her out of the rubble.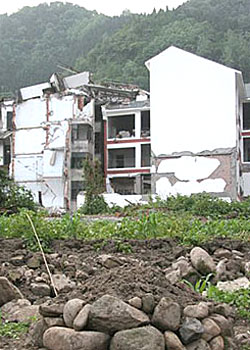 The damaged teaching building of Tang Hong's school
"There was no option than to rescue as many kids as possible, for it was the automatic instinctive response," he said.
But he confessed that he felt guilty because he had been too late to save his daughter. His wife, a pensioner, was at home, taking care of their 7-month-old grandchild, who happened to say his first word, "Mummy," exactly on the afternoon of Tang's death.
But the grandfather would be relieved to hear that two students in his daughter's arms were found alive and finally survived.