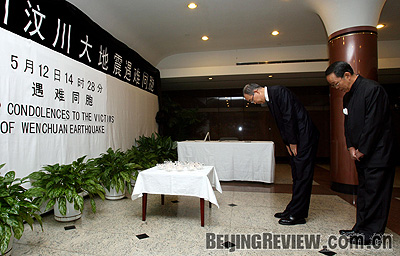 DEEP CONDOLENCES: UN Secretary General Ban Ki-moon bows in honor of the earthquake victims at China's Permanent Mission to the UN in New York, along with Wang Guangya, Permanent Representative of China to the world body, on May 19
Countries around the world joined China in paying tribute to the tens of thousands of victims of the Wenchuan earthquake, as it started three days of national mourning on May 19-21.
By May 21, heads of state and government, parliamentary leaders and officials at international organizations from 115 countries had visited Chinese embassies, consulates or missions to express their condolences, according to the Foreign Ministry.
"We stand with you during this tragic moment as you mourn the loss of so many of your loved ones and search for those still missing," wrote U.S. President George W. Bush in the book of condolence at the Chinese Embassy in Washington. "I admire the generosity of spirit and the strength of character shown by the Chinese people as you confront this natural disaster. Our country stands ready to assist in any manner that China deems helpful."
French President Nicolas Sarkozy also visited the Chinese Embassy in Paris. The visit was designed to express the French people's sympathy, friendship and support toward the Chinese people, he said.
"Your strength, resilience and courage have profoundly impressed the world," wrote UN Secretary General Ban Ki-moon. "The whole UN system and family stand behind you, China, at this time of challenge."
Peru designated May 19 a national day of mourning for Chinese earthquake victims, when Peruvian national flags at government and public buildings in the capital, Lima, flew at half-mast.
In Pyongyang, the capital of North Korea, air sirens were sounded to mourn victims on May 19 at 3:28 p.m. local time, or 2:28 p.m. Beijing time, the time when the earthquake struck.
On May 20, the UN Security Council observed a minute of silence in honor of the victims of the devastating earthquake at the beginning of a high-level debate.
Outpouring of aid
Both houses of the U.S. Congress passed resolutions in support of China's earthquake relief efforts.
"The House of Representatives extends its condolences and sympathy to the people of the People's Republic of China for the grave loss of life and vast destruction caused by the massive earthquake centered in Sichuan Province," the resolution said.
The House is confident that the Chinese people will "come together to help those in need and succeed in overcoming the hardships incurred because of this tragedy," it said.
The resolution adopted by the Senate urged Bush to actively respond to any request for humanitarian aid from the Chinese side. Nineteen senators, including Democratic presidential candidates Hillary Clinton and Barack Obama, signed it.
Nancy Pelosi, Speaker of the House of Representatives, also issued a statement to express her condolences to the Chinese people and the families of the victims.
"I hope it is some comfort to all of those affected by this terrible tragedy that so many throughout the world are thinking of them and praying for them at this difficult time," she said. The international community must respond "immediately and vigorously" to the Wenchuan earthquake, she added.
Rescuers from Japan, Russia, South Korea and Singapore assisted China's search and rescue efforts in the first few days after the earthquake. As the need for medical services heightened in quake-hit areas, many foreign countries and organizations proposed sending medical teams to China. By May 20, China had accepted aid offers from Germany, Italy, Japan and Russia, the Foreign Ministry said.
Foreign governments were still committing more assistance in cash or kind to China by May 22. South Korea pledged to provide an additional $4 million in relief materials, according to a Chinese Foreign Ministry news release issued on May 20. Australia offered a further 1 million Australian dollars ($964,000). Germany pledged to give 2.5 million euros ($3.8 million) from its China-Germany development aid account to China's earthquake relief efforts in addition to its previous donation of 1.5 million euros ($2.3 million) in relief funding.
Britain offered a further 1 million pounds ($2 million) in relief materials. Italy pledged a further 500,000 euros ($750,000) in aid. Saudi Arabia promised to provide further relief materials to China, after donating $50 million in cash and $10 million in materials.