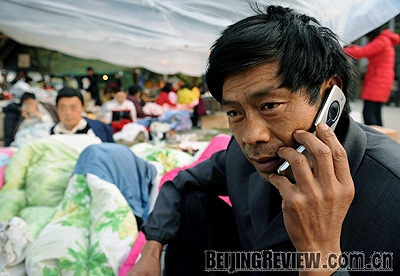 CONTACT: Mobile phone communications have resumed in seven severely hit counties in Sichuan Province, providing a vital link to the outside  (TAO MING)
Communication and power supplies in most quake-hit areas in southwest China have been restored, said Xi Guohua, Vice Minister of Industry and Information Technology, and Gu Junyuan, Chief Engineer of the State Electricity Regulatory Commission, at a press conference on May 19.
Incomplete statistics shows 616 switch offices, 16,507 wireless base stations, and a total of 10,960 km of fiber-optic cables were damaged in the 8-magnitude earthquake on May 12, which cut off communications in seven counties and many townships in heavily hit areas of Sichuan Province as well as five counties in Gansu Province, said Xi.
The good news is that the trunk fiber cables for fixed communications in six heavily damaged counties in Sichuan Province, including Wenchuan, Lixian, Maoxian, Qingchuan, Pingwu and Heishui, have all been reconnected, but in Beichuan County, emergency communications vehicles are still being used to maintain contact with the outside, according to Xi.
Mobile communications have resumed in the above-mentioned seven counties, he added.
As of 8 a.m. on May 19, the telecommunication sector had sent out 26,000 repair workers, dispatched 391 emergency telecommunication vehicles, 979 satellite telephones, 7,422 power generators, and over 2,000 sets of emergency communications equipment, among other resources, said Xi. The telecom sector had also sent 900 million short messages carrying emergency instructions and disaster rescue and relief guidance.
About 76 of the 151 townships in the severely affected areas have had their communication services restored, and repair work is still underway in 33 townships, said Xi.
"We promise to resume communications in the 33 townships to make the rescue and relief work easier in a couple of days," he added.
"We will use new fiber cables and minor-caliber satellite facilities to fix the networks there," he said. "The most difficult part of the repair work is that roads to these townships are still blocked, and equipment for the repair work can only be delivered by helicopter."
Repair workers had to carry 200-meter long fiber cables on their shoulders to the site amid danger from repeated landslides and rolling stones, Xi told reporters, adding that an employee of China Mobile Ltd. was killed by falling rocks as he repaired the fiber cable linking Lixian County.
He also said the repair work at the moment was meant to guarantee the rescue and relief efforts, and the more complicated reconstruction of the communications network had just started.
"The repair work so far has told us that we have to upgrade the shock-resistant capacity of our communication facilities as we can see that fiber cables are vulnerable to damage caused by quakes, and more satellite facilities should cover remote areas to send out timely information in case of emergency," he added.
Xi also said the Central Government would organize a team of seismic experts to guide the reconstruction work, by, for instance, avoiding building homes and facilities on seismic belts.
By May 18, damaged electric power facilities in Chongqing, Gansu and Shaanxi were by and large repaired, and loads there were close to or hit their pre-disaster levels, said Gu.
The maximum electricity load of the Sichuan power grid had also returned to 80 percent of its pre-disaster maximum, and more than 85 percent of power facilities in Sichuan were recovered, added Gu.
With respect to hydropower dams along the upstream of the Mingjiang River and the Jialing River in the quake-affected areas, dam operators and dam safety experts were organized to assess their safety status and monitor their operations around the clock. They will identify any dangers that may emerge, said Gu.
By 6 a.m. on May 18, the State Grid Corp. of China (SGCC) had dispatched over 2,000 repair workers to restore power supplies under its jurisdiction, according to Gu.
SGCC and the China Southern Power Grid Co. Ltd., respectively, dispatched 917 and 210 units of emergency power supply vehicles and diesel generators, he added.
SGCC had also sent 10 medical teams of 170 members, 25 medical vehicles and 3,800 tents to the quake-hit areas, according to Gu.