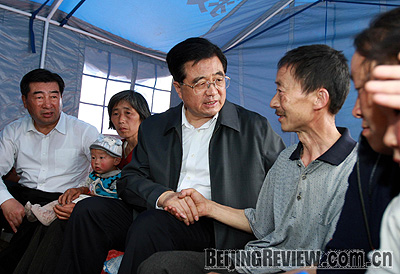 BE STRONG: Chinese President Hu Jintao (center) visits Beichuan farmers, encouraging them be steadfast and pledges to help rebuild their lives
Tens of thousands of lives were lost in the May 12 disaster. When others were in shock or grieving the loss of someone close to them, and as the country began to mourn, Wang Hongfa, Director of the Civil Affairs Bureau of Beichuan County, was already fighting to save lives.
Wang acted immediately after the earthquake hit, with no tears and no complaints, just the desire to help others out of the disaster during a hard time. Few would realize that he is also suffering, having lost 15 family members, including his only son.
Beichuan, in northwest Sichuan Province, is home to 161,000 people, including thousands of people from the Qiang ethnic group. The county seat is 186 km from the provincial capital city of Chengdu, and 90 km from Wenchuan County at the epicenter. Some roads leading to Beichuan crumpled and landslides and mudflows blocked rescuers and aid workers from arriving there after the earthquake. Much of the county was buried in rubble with 8,605 dead and 9,693 injured, according to statistics released by the Ministry of Civil Affairs.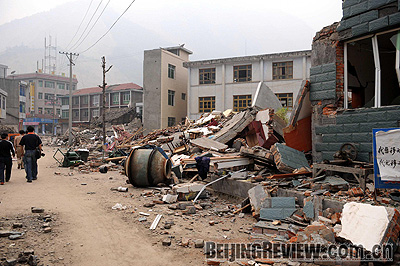 LOST HOMES: Beichuan is one of the badly hit regions during the May 12 temblor
When the earthquake occurred, Wang was walking away from the county government building back to his office. After a loud roar that lasted a few seconds, the earth began to shake heavily, and Wang fell. Two to three minutes later he was able to stand up amid thick clouds of dust, and saw piles of rubble left where moments before there had been buildings.
Surviving government officials and residents in the county rallied to the rescue, and Wang was assigned the responsibility of organizing medical treatment. "For almost 10 minutes, my mind went totally blank," Wang said. "When I came back to reality, I rushed to the hospital."
But when he arrived, he found the hospital had collapsed, and along with other survivors he began to crawl through the rubble to excavate those buried but still alive.
At 4 p.m., Wang moved on to save lives at a local elementary school, where many pupils were buried and crushed to death. He was suddenly struck by great sadness and grief, when passing by the teetering dormitory of his 16-year-old son. "At that moment, I could not reach my son," Wang said.
About one hour later, the authorities organized villagers to evacuate to safer places before the first night after the disaster fell. It was chilly with pounding rain, and up to 4,000 victims crowded into Beichuan's open plaza, suffering from hunger, cold and fear caused by frequent aftershocks. Supplies of drinking water and electricity were cut off, and Beichuan's connections to the outside world were completely broken. Wang mobilized the less affected to donate clothing, quilts and food for those in most need.
At midnight, Wang finally stole a moment to take a breath, but a sense of hopelessness began to set in, with thoughts of his dead son.
In the following five days, Wang slept only seven hours. Day and night, he received rescue teams and disaster relief and developed solutions to transport food supplies through tough road conditions. Wang's Civil Affairs Bureau also collected data on how food and relief materials were distributed and what was most needed in the affected areas.
"When I am alone at night, it reminds me of my lost fellows. If they were still alive, our joint efforts could have helped more," Wang said, brimming with tears.
Among the 21 members of the Beichuan Civil Affairs Bureau, only 10 people survived, including three who were badly injured. But they have no time to weep for family deaths or take care of the wounded, while they face the duty of dealing with such a massive crisis.