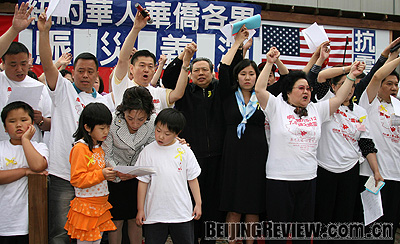 FROM NEW YORK: Peng Keyu (center), China's Consul General in New York, sings together with more than 200 Chinese American entertainers at a charity performance in the city on May 18, raising donations for the quake-hit regions in China  (HOU JUN)
While Chinese at home deal with the tragedy of the devastating Sichuan earthquake, their compatriots overseas are stepping up efforts to raise donations to help those in need.
The Consulate General of China in New York (CGCNY) had received donations of more than $2.3 million as of May 20, according to Consul General Peng Keyu.
The money was mainly collected via Chinese organizations within their communities, as well as via post and hand-delivered donations.
At 4:15 p.m., May 20, a rainy day in New York City, Wang Jue stepped into the special room for donations at CGCNY with her former classmate Xiao Jing.
Yang Jingmei, wife of Consul General Peng, was on hand to man the donation desk. She helped Wang complete the donation form, and thankfully accepted the $100 note she gave as her way of helping the quake victims.
Born and raised in Guangxi Zhuang Autonomous Region, Wang is now a second-year graduate student at Saint Joseph University in Philadelphia, about a two-hours drive from New York City. She said she was so concerned about the victims and decided that donating money was the best way to help provide the goods and materials needed there.
Wang told Beijing Review Chinese students and associations in Philadelphia had organized donation boxes, put up posters, and handed out leaflets on the city streets. "Everybody is trying to raise as much money as possible through all sorts of ways," Wang said.
"This year is especially hard for China and for us as well. There was the snowstorm and then the unrest in Tibet and now the earthquake," Wang said, adding that she believed with unity China could overcome all these tragedies.
Many Chinese students such as Wang who come to the United States to further their education at their own expense do not have much money. Even those with scholarships cannot save much. And yet they are among the most generous and active groups that responded immediately to the earthquake catastrophe by not only making their own donations, but also encouraging people around them to do so.
Zhang Jian, President of Columbia University Chinese Students and Scholars Associations, told Beijing Review that his organization has been making every effort to raise money for the ravaged area and that its current main activity is to distribute posters and leaflets about the earthquake on campus at a time when a lot of students' parents and friends are coming to attend the graduation ceremony.
"We are not only focusing on the Chinese community to get donations," Zhang said.
In addition to money gathered by the CGCNY, all of which will go to the Ministry of Civil Affairs in charge of the disaster relief work, some other donations collected by associations and individuals outside of China went directly to related government departments and civil organizations such as the Red Cross Society of China (RCSC), either in the form of money or goods and relief materials. And apart from the traditional ways of on-the-spot and mail-in donations, the widely used Internet now serves as an effective alternative to raise money.
One man who declined to give his name made good use of the Internet in terms of soliciting contributions to the earthquake victims. He is an administrator of a Chinese website called "Weiming Space" (mitbbs.com), which has gained enormous popularity among overseas Chinese, especially students in North America since it started up here 10 years ago.
On May 12, shortly after the information of the earthquake was released, the man posted an article on the "Donation" board of the website with the online codename of "walklooktalk," appealing to web browsers to make donations. He also announced a public Paypal account (contactmitbbs@gmail.com) for donations, saying that he and his team members were trying to contact the RCSC and other local organizations that would accept donations.
"We will make the donations in the name of 'Web Browsers of Weiming Space,'" Zhu wrote in the article.
People tend to distrust appeals that appear online, but this time a lot of them chose to have faith in "walklooktalk." According to the man, by May 19, more than $180,000 had been received, most of which came from Chinese now studying or living in North America and some in Britain and Japan.
"We have many donations still coming to our account," he told Beijing Review. He said that of all those donations received, 500,000 yuan ($71,736) has been passed on to RCSC, Sichuan Charity Federation and China Foundation for Poverty Alleviation in the form of cash and 100,000 yuan ($14,347) has been spent on food and medical aid which has been shipped to the disaster-hit area.
These receipts and shopping lists have been posted by the man on the same website. He promised to pass the remainder of the donations to the proper organizations as soon as possible.
(Reporting from New York)