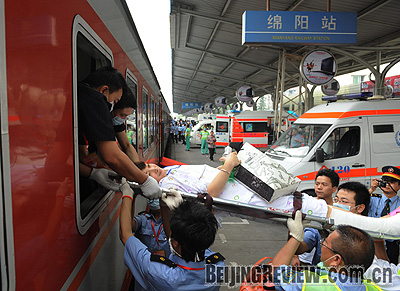 CARE TRANSFER: Police help to move an injured woman onto a special chartered train bound for Xi'an where she can receive better medical treatment, on May 20  (YANG SHIYAO)
"When the rescued people arrive, what we can do is to try our best to restore their health," said Liu Xiaoguang, Deputy Principal of Peking University Third Hospital and head of Beijing's medical rescue team for the Sichuan earthquake. As one of the first medical teams sent out by the Ministry of Health, Liu's team, consisting of 31 doctors and 20 nurses from nine prestigious hospitals in Beijing, arrived in the affected area on May 13, one day after China's most devastating earthquake in decades.
Within one week after their arrival, this 51-person team, stationed in Mianyang, one of the worst hit cities, had treated nearly 5,000 patients, of whom nearly 1,000 had deadly wounds. Of the over 1,000 operations they conducted, many were on shaking operation tables during aftershocks in makeshift camp operation rooms.
Liu's medical team members are not alone in fulfilling their mission as "angels in white coats" in the face of a disaster. According to the Ministry of Health, by 12 a.m. on May 21, it had sent out medical teams from 26 provinces, municipalities and autonomous regions, totaling 7,638 medical staff, bringing the total number of post-earthquake medical rescue workers from outside Sichuan Province to 10,708. According to Sichuan Provincial Government, by 4 p.m. of May 21, a total of 39,000 medical rescue workers were working at the frontline of earthquake relief.
During President Hu Jintao's field visit to Leigu Town of Mianyang City on May 16, he told the homeless villagers, "We will try our best to rescue stranded people, try our best to treat the injured and try our best to arrange basic life for people of the ravaged areas."
As hospitals in the earthquake-hit areas were flooded with the wounded, some of whom had to live in makeshift wards or hospital corridors, the Ministry of Health launched a transfer of patients on an unprecedented scale to other provinces and municipalities in ambulances, chartered trains and airliners. On May 18, the Ministry of Health issued a circular to several provincial health authorities, requiring them to arrange beds for transferred patients. Big hospitals in many provinces and municipalities had beds ready in a matter of days.
At 7 p.m. on May 19, the first chartered transfer train, carrying 206 patients and some medical staff, arrived in Chongqing. Railway staff had worked overnight to dismantle a window in each carriage so that stretchers could be easily carried onto the train. All of the 81 attendants on that train had received basic emergency medical training given by the local Red Cross Society. On the same day, Wang Yongping, a spokesman from the Ministry of Railways, said that except for three trains waiting for patient transfer missions at the railway station of Chengdu, capital city of Sichuan Province, another 24 trains at railway stations in other cities were ready to set off at any minute.
Wang Guoqiang, Vice Minister of Health, said the purpose of moving patients to other provinces and municipalities was to relieve pressure on Mianyang's local medical institutions as well as to provide better medical treatment to patients. By May 21, around 5,700 injured people had been transferred to hospitals in other provinces and municipalities.
China is also seeking international aid in treating the injured. At the press conference organized by the Ministry of Foreign Affairs on May 19, Spokesman Qin Gang said by May 21, medical teams from Germany, Italy, Japan and Russia had arrived in China, and China was ready to accept more foreign medical aid teams. Countries wanting to send teams should contact the Red Cross Society of China or Chinese embassies in their home countries.
The Ministry of Health announced on May 21 that no major outbreak of epidemic diseases or other public health threats had been reported in areas hit by the earthquake, and the ministry has outlined an epidemic control and response plan, including safe water and food distribution methods, enhanced epidemic surveillance and control of any identified outbreaks.
By May 21, the Ministry of Health had sent out 2,136 disease prevention professionals, bringing the total staff working on epidemic prevention to 5,252 people, who were disinfecting and burying corpses and dead animals, sterilizing manure pits, removing mosquito and fly-gathering spots, identifying the origins of public health hazards, building toilets and garbage dumping grounds and monitoring drinking water safety.
The ministry has also dispatched human vaccines, tons of disinfectant powder and sprayers to the quake-hit areas to ensure that disease control staff can fulfill their mission.