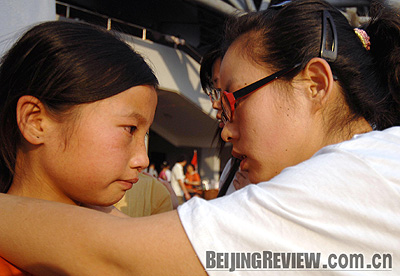 TELL ME YOUR FEAR: A psychological counselor (right) comforts a girl at a temporary post-earthquake settlement in Mianyang City, Sichuan Province  (JIANG YI)
In a temporary home for orphans of the 8.0-magnitude earthquake in Mianyang, one of the worst hit cities in Sichuan, Zhao Guoqiu, an experienced counselor, is having the most difficult counseling session of his more than 30-year professional career. Four days after the quake his patient is 12-year-old Liu Xiaoye, who lost her parents, brother and grandmother. Unaware of the death of her parents, the girl still expects her parents to take her home soon.
"Xiaoye, please relax. Tell me what you saw after the building collapsed during the earthquake," asked Zhao.
"Many people were crushed under rocks, a lot of blood on them," answered Liu.
"Then why didn't you follow Teacher Lu to run to the top of the hill?"
"I went back to check on my grandma, brother and cousin."
"What did you see?"
Liu's body started to tremble terribly, and she buried her head in her hands in her lap, without saying a word.
Taking Liu's hands into his own, Zhao said, "Don't be afraid, Xiaoye. Tell me what you saw."
The girl burst into tears and speaking through cries of pain said, "My grandma died. My cousin escaped, but my brother also died."
"Child, don't cry and stay strong. Close your eyes and tell me the picture in your mind. Is it a collapsed building or a sound building," Zhao said.
"I don't know. I don't want to recall it. I beg you not to ask me to recall," Liu yelled, weeping uncontrollably.
Zhao, who headed the first team of psychologists sent to the disaster zone by the Ministry of Health, never expected his job would involve dealing with such mental trauma. "Seeing her beloved ones dying in front of her eyes was too much trauma for a 12-year-old girl to bear," he said. He told a reporter he would talk to as many survivors as possible since he believes that the best timing for post-disaster psychological intervention is between 24 hours and 72 hours after the disaster. He said the further the therapy is put off, the harder it would be to relieve the mental trauma.
China's largest grief counseling operation for survivors of a natural disaster is in full swing, as Ministry of Health and local mental medical institutions continue to send teams of psychologists to help earthquake survivors cope with losing their loved ones.
Zhang Kan, head of the Institute of Psychology at the Chinese Academy of Sciences and one of China's top psychologists, told the newspaper Southern Weekly he estimated that no less than 500,000 of survivors of the earthquake need counseling as well as around 10,000 rescue workers and medical staff participating in the relief efforts. He said even some journalists covering the earthquake would suffer from trauma and need counseling.
Offering psychological counseling to the survivors of disasters is a relatively new concept in China. After a theater fire in Karamay City, Xinjiang Uygur Autonomous Region, in 1994, which took 325 lives, including 288 primary and middle school students, therapists for the first time were organized to offer counseling to the relatives of victims. In a further example of post-disaster psychological relief the government invited psychologists to provide therapy to relatives of the victims of an air crash in Dalian, Liaoning Province, in 2002, which killed 112 people. In both cases, psychological counseling to some extent eased the mental trauma of the relatives.
"According to studies in various countries, the majority of disaster survivors walk out of the psychological shadow with a stronger personality; yet a minority of survivors suffer a major psychological crisis within three months. Providing counseling now will minimize the likelihood of a psychological crisis in the future," said Zhang.
There are at least 500 professional psychologists working in the quake zone, according to Xinhua News Agency's tally of medical staff sent by the Ministry of Health and a dozen medical institutes around the country. But there is a serious shortage of professional psychologists, since trauma counseling is still a developing science, even in China's major cities.
On May 20, the Ministry of Education began to distribute 800,000 psychological self-help manuals for primary and middle school children of the earthquake ravaged area, compiled by mental health experts. The Publishing House of Zhejiang Gongshang University also punished a mental self-help manual especially for earthquake witnesses within one week after the earthquake and has begun to distribute it free of charge.