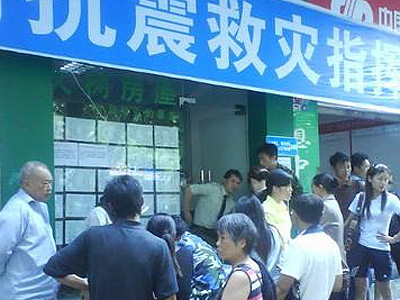 Civilians throng to the disaster relief center in Mianyang to inquire about adopting quake orphans
On May 21, several residents of the city of Mianyang, one of the quake-battered areas, rushed to the local civil affairs department to inquire about the specific procedures required to adopt children orphaned by the deadly May 12 earthquake.
Even after the authorities told these volunteers to temporarily stop applying -- since the verification of these kids as orphans would take long -- people still lingered on and lined up at the gate of the department. The civil affairs department is attempting to avoid cases of mistaken adoption, as some children have temporarily lost contact with their parents, or some children are too young to remember their parents' names. Cross-checking and research will justifiably take time.
On May 20, the Ministry of Civil Affairs stated in a notice that adoption affairs would be dealt with later, given the urgency of the current relief work. However, the task of identifying orphans has begun. The ministry requires civil affairs departments at the levels of province and municipality and autonomous region, as well as the Xinjiang Production and Construction Corp., to be well prepared for consultation services for people wishing to adopt quake orphans.
The related staff is required to be professional, and conduct their duties in accordance with the laws and regulations of the state. The ministry has asked local authorities to show appreciation for those who have kindly offered to adopt orphans.
(Reporting from Mianyang)