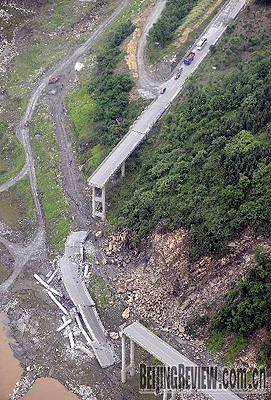 NO WAY THROUGH: An aerial picture taken on May 14 shows a destroyed highway leading to Wenchuan (CHEN KAI)
Late on May 15, rescuers announced that the Lixian-Wenchuan Highway was finally reopened. It was the first repaired road leading to Wenchuan County at the epicenter of the May 12 earthquake in Sichuan Province, which allowed rescue equipment and relief materials to arrive in Wenchuan by land.
An ancient Chinese poet described his traveling in Sichuan as: "It is easier to climb to heaven than taking a Sichuan road." But at least in the poem, there was a road to take. Before the reopening of the Lixian-Wenchuan Highway on May 15, however, the county lay almost buried under rubble. Whatever roads there had been blocked by rocks and mud. The rail line was cut off too. The only way in was by military helicopters transferring rescue personnel and relief supplies to the trapped victims.
Situated in southwest China, Sichuan forms a basin of land surrounded by mountains, while Wenchuan locates deep in the narrow valleys between mountains in the west. Village roads wind a path through the mountains, many alongside rivers, and are ordinarily risky to travel on given the 4,000-meter-altitude, let alone after an earthquake.
Sichuan's inter-provincial road transport system has developed rapidly over the past decades, initially shaping a network diverging from Chengdu, the provincial capital city, as the hub. All counties are conveniently connected through highways. But the seismic tremors caused countless landslides and rockfalls, disrupting all road access.
Statistics from the Ministry of Public Security said that all the roads from Songpan and Hongyuan counties in Aba Tibetan-Qiang Autonomous Prefecture to counties of Maoxian, Lixian and Wenchuan, and cities of Dujiangyan and Chengdu, were completely blocked or crumpled. Roads linking towns in the western part of Sichuan were totally destroyed.
While more relief aid was delivered by air, road repairs were accelerated. According to the Ministry of Transport, as of May 16, most inter-provincial highways had been reopened to traffic. Major road links to quake-affected Chengdu, Deyang, Mianyang and Yaan cities had also been restored.
The roads to Wenchuan failed to be reopened soon because logistics made it extremely difficult to repair. Most roads to Wenchuan are narrow and run through tight valleys, which allows only one dredge vehicle to operate at a time. Steep topography, landslides and mudflows triggered by frequent aftershocks made it harder for the quake relief and rescue teams to reach the most severely affected areas.
Feng Zhenglin, Vice Minister of Transport, told a press conference on May 14 that it's overwhelmingly difficult to restore the roads within a 50-km radius of Wenchuan.
Since hundreds of thousands of survivors were still trapped in Wenchuan and only two locations were suitable for parachutes to land, it was also not easy to depend on aircraft to transport relief supplies and injured people.
The relief workers therefore decided to restore all the four roads leading to Wenchuan and Maoxian simultaneously. Vice Minister Feng said that the Ministry of Transport had sent five teams to inspect highways on foot. "The goal of our repair work is now simple--to ensure the roads are passable for big trucks carrying relief supplies into the disaster area and carrying out the injured people," he said.
After the Lixian-Wenchuan Highway was restored, more efforts were devoted to repairing other three roads.
The repairing of the highway from Danba to Yingxiu Town in Wenchuan, however, made slow progress. A section of the highway was submerged, posing great difficulties to the repair effort. Yingxiu is among the most severely hit areas in this earthquake.
The highway from Shaba to Maoxian still had 28 km to be restored as of the morning of May 15.
A 70-km section of the highway from Beichuan to Maoxian was restored on May 14. But road workers reported that the repair work could not be completed soon since the remaining 28 km were severely damaged. On the evening of May 14, the chief engineer of the Sichuan Provincial Communications Department arrived at the work site, along with a technical team to help the road restoring effort. More relief workers were expected to join in the road reopening team.