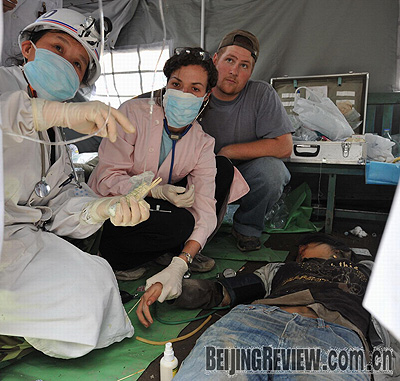 HERE TO HELP: American volunteers join rescue efforts in the worst-hit Beichuan County
The international community, already reeling from the tragic floods in Myanmar, were stunned again on May 12 when a 7.8-magnitude earthquake in southwest China's Sichuan Province rocked the nation.
Apart from sending their condolences, many countries, as well as international organizations, provided support in the form of donations and rescue personnel to help with the disaster.
On May 15, the Chinese Government accepted Japan's offer of an emergency response team to the quake-stricken area, according to the Chinese Foreign Ministry website.
Russia sent a further three aircraft containing humanitarian aid on May 15, said Irina Andrianova, spokesperson for the Emergency Situations Ministry of Russia. Two days earlier, a Russian transport plane took off from an airport in Moscow, heading for China. According to the Emergency Situations Ministry of Russia, 30 tons of aid materials from Russia, including tents and quilts, were on board as well as arranging an airmobile hospital for field operations.
On May 13, the French Foreign Ministry said that France will provide manpower and material aid to China, especially their professional rescue team.
Norway and Ukraine also said that day they are willing to provide humanitarian aid to China as soon as requested.
Erik Solheim, Norwegian Minister of the Environment and International Development, said that his country will do its best to provide special facilities and other help if needed.
The Ukrainian Government said they will dispatch a battleground mobile hospital manned by 102 medical staff to help the quake wounded. The Ukrainian Emergency Situations Ministry said if necessary it will also send search and rescue troops to China.
The German Government stood ready with a fast response rescue team, a crack squad that has played an important role in searching and rescuing people in earthquake disasters in Iran, Turkey and India in recent years.
U.S. President George W. Bush told President Hu Jintao on May 13 that the United States was ready to assist in any possible way. The White House will provide $500,000 in initial aid to China.
Non-governmental organizations have also joined the rescue efforts. When Chinese Premier Wen Jiabao visited one of the disaster areas, he met volunteers from the U.S.-based humanitarian organization Heart to Heart International. The 16-member team, led by Brian Robinson, China Chief Representative of the organization, brought a truck and an ambulance to the Beichuan County, about 160 km northeast of the quake's epicenter of Wenchuan County.
Foreign aid is not only in the form of materials and rescue help. After the earthquake, the disaster-stricken area was lashed by rain, which made rescue and reconnaissance even more difficult. To assist with the disadvantageous weather, the Japan Aerospace Exploration Agency provided satellite pictures that have helped China to examine the geological disaster from a broader perspective.
In addition, the London-based Interna-tional Maritime Satellite Organization contributed to improving communications in the quake-hit area.
International Government Donations
Japan: $5 million
United States: $500,000 (initial aid)
Thailand: $500,000
Norway: $3.90 million
Germany: 500,000 euro (initial aid)
Saudi Arabia: $50 million and
materials worth $10 million
Britain: 1 million pound
Poland: $100,000
(according to figures from the Chinese Foreign Ministry as of May 14, and do not include donations from the local governments of other countries and NGOs)