Vice Premier Li Keqiang, who is also the vice director of a disaster relief headquarters led by Premier Wen Jiabao, has arrived in Beichuan to direct quake relief.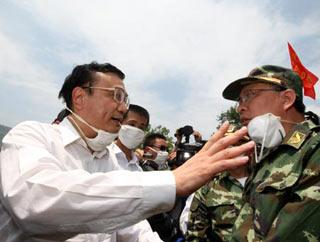 Chinese Vice Premier Li Keqiang (L), also member of the Standing Committee of the Political Bureau of the Communist Party of China (CPC) Central Committee, speaks to a rescuer during his visit to the quake-hit southwest China's Sichuan Province to direct quake relief on May 19, 2008. (Xinhua Photo)
After visiting Shifang, Mianyang City, and Pingtong Township in Mianyang's Pingwu County, Li went to Beichuan on Monday afternoon to offer his condolences to the local residents.
He said saving lives is still the top priority, but stressed that disease prevention should also be given special attention in the disaster areas.
(CCTV May 20, 2008)