No epidemics have been reported in quake-hit regions so far following a 7.8-magnitude earthquake that hit southwest China's Sichuan Province, said Gao Qiang, party chief of China's Ministry of Health, briefing the media on medical assistance carried out there on May 15.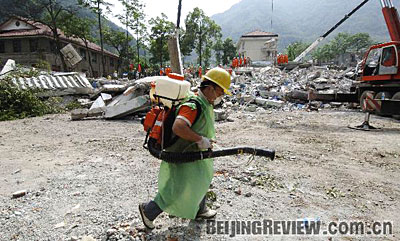 A worker is disinfecting the Beichuan Middle School rocked by the earthquake
A major goal of the ministry is to make sure that there is no epidemic in the quake-stricken regions of Sichuan, said Gao, because without effective protection of water resources, environmental disinfection, food safety and epidemic prevention, it is very likely that intestinal and respiratory infectious diseases will spread.
"It's a great responsibility of disease control and prevention professionals to prevent any epidemic from spreading in the aftermath of a natural disaster, though deaths and injuries from the disaster can't be totally avoided," said Gao.
The Ministry of Health immediately launched the first level sanitation emergency response mechanism, formed a leading disaster relief team and mobilized medical rescue workers to go to the disaster-stricken areas in order to reduce the death toll and prevent epidemics, said Gao.
According to Gao, the ministry mobilized an emergency medical team of 700, prepared 10,350 CC blood, 20,000 blood plasma bags and 15 tons of first aid kits and drugs overnight and sent them to the disaster-stricken areas on May 13.
The ministry sent another team of 1,000 medical personnel and 504 ambulances to Sichuan on May 14 and on the night of the same day, the ministry organized a third medical aid team of 3,000, said Gao.
By 10:00 a.m. on May 15, the ministry had assembled 1,755 medical rescue workers in total from 18 provinces, autonomous regions or municipalities nationwide and divided them into 190 teams to offer medical treatment in the rubble-strewn areas.
Besides this, many provinces, municipalities and autonomous regions organized more than 1,200 doctors to conduct medical assistance in Sichuan. Together with medical teams sent by the PLA and the armed police, nearly 5,000 medical personnel are treating earthquake victims in Sichuan. Sichuan Province mobilized more than 5,000 medical workers within the province to treat victims, prevent epidemics and monitor sanitation conditions in severely hit areas.
The ministry also sent teams of sanitation and epidemic prevention professionals from the Chinese Center for Disease Control and Prevention to Sichuan, said Gao. The ministry made a decision to ask several provinces to offer one-to-one aid on disease control and prevention in counties severely affected. The first group of 14 teams with a total of 144 professionals arrived in Sichuan to collaborate with local medical workers for orderly and effective epidemic prevention.
To now, no epidemic or other emergent public sanitation events have been reported in quake-hit regions in Sichuan, said Gao.
The ministry sent 15 containers of surgery equipment and tents to the quake-devastated areas on May 13 and will ask the National Development and Reform Commission to assemble three batches of national drugs, medical equipment, vaccine and disinfector reserves for medical assistance and epidemic prevention.
By 10:00 a.m. on May 15, a total of 64,040 victims had been sent to hospitals within Sichuan Province, of which 12,587 were critically injured, said Gao. There are still 4,240 beds available in hospitals there. A total of 200 million yuan ($28.6 million) has been allocated from central finances to cover first aid assistance to victims, another 200 million yuan ($28.6 million) to cover drugs and medical materials and 30 million yuan ($4.3 million) to subsidize medical assistance teams.
Gao said medical teams, first aid devices and materials to stop bleeding and prevent infection are in great demand. The government is placing emergency purchase orders of equipment necessary to treat the critically injured, such as respiratory mechanisms, insulation monitoring devices and dialysis solution machines.
The Chinese Government appreciates the sympathy and support of many countries that have offered help to China and is happy to receive donations from them, said Gao. He promised that Chinese rescue workers would ask international rescue workers for help if they faced difficulties and critical conditions in the process of treating victims.