"There has been little impact on the water supply in the city's central area after the quake," Liu Jiping, Deputy Director of the Water Resources Bureau of Chengdu, told Beijing Review in the afternoon May 18.
"But the situations in other cities nearer to the epicenter were much worse than that in Chengdu," continued Liu. "For instance, the water supply system in Dujiangyan City was paralyzed once, and there was a temporary failure of the water supply in Pengzhou City."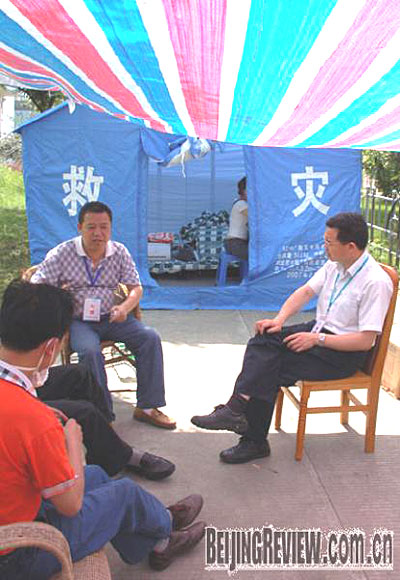 Liu Jiping (R) holds an emergency meeting outside the relief tent, May 18. (Photo by JING XIAOLEI)
An emergency response solution was soon adopted and implemented by the Bureau after the quake, according to Liu.
"Soon after our arrival in Dujiangyan on May 13, several experts and I met with officials from the local water resources bureau and the tap water company," said Liu, adding that three solutions were decided on during the meeting.
The first is to mobilize vehicles to provide water for quake-hit areas; the second is to run the current water supply system in terms of a trial operation on the one hand and install exposed pipes on the other hand; and finally, to mobilize diesel generators to create water supply from several water factories.
The following days saw further research and on-the-spot trials in Dujiangyan City, and the water supply resumed gradually.
"A similar situation occurred in Pengzhou," said Liu. "There too we created three solutions. We set up a team -- with the precondition of guaranteeing daily water supplies -- to detect leaks in the internal plumbing systems, which were seriously damaged by the quake. The second solution was to increase storage in the Pengzhou Tap Water Company to guarantee a steady supply of water. The final one was to list several safe and reliable stops for special vehicles to pick up water and then provide it to quake-hit victims." According to Liu, tap water in Pengzhou is currently in good supply.
Chengdu, the capital of Sichuan Province, has had few major problems since the quake. Several locals in Chengdu told Beijing Review that the supply of tap water to their homes was steady and uninterrupted.
(Reporting from Chengdu)